15 Benefits of Reverse Cycle Heating and Cooling in Melbourne
July 01st, 2022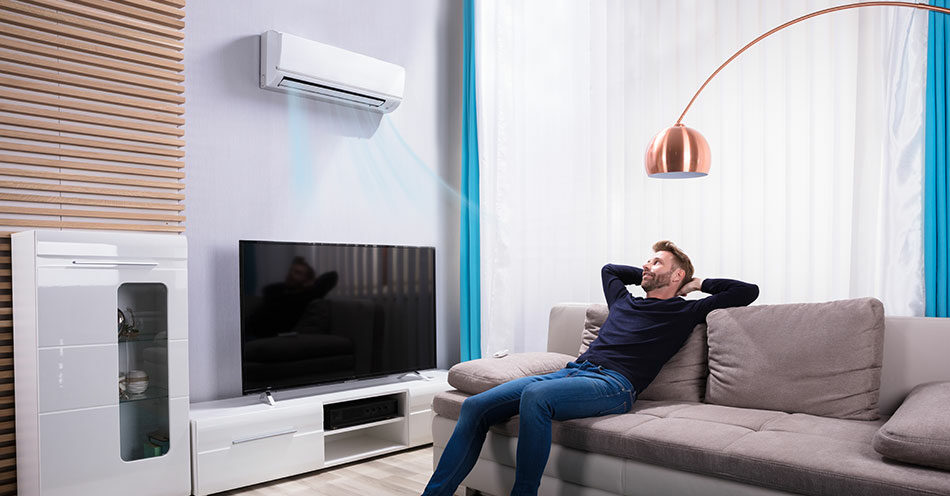 Melbourne's weather is some of the best in the world. We enjoy hot dry summers where we can hit the beach and mild winters where we can easily rug up at home. Melburnians might live in one of the world's most liveable cities, but we still find ourselves reaching for the heating and cooling controls throughout the year.
If you want one of the best heating and cooling systems for one of the best cities in the world, reverse cycle air conditioning is perfect for you.
What Is Reverse Cycle Air Conditioning and How Does It Work?
Reverse cycle air conditioning is a heater and cooler in one system! In cooling mode, a reverse cycle system functions as a refrigerated air conditioner. In heating mode, it provides electrically-powered heating that's comfortable and efficient.
The secret ingredient in reverse cycle air conditioning is the heat pump. This device works in tandem with refrigerant to transfer heat from one place to another. In cooling mode, it removes heat and creates cool air. In heating mode, it reverses this cycle; heat is absorbed from outside and used to heat your home.
Other systems use gas or electricity to generate heat directly, but a reverse cycle unit simply moves heat energy around. This allows you to heat or cool your property using one device, and it also results in an incredibly efficient HVAC system.
Read on to learn 15 benefits you will enjoy when you choose reverse cycle heating and cooling in Melbourne.
1. Effective Heating During Melbourne's Cold Winter
Not many people will be running their air conditioner in winter, but with a reverse cycle system, you will love switching your AC on in July!
You might be wondering how effective reverse cycle heating is, especially when these systems don't generate their own heat.
The truth is that there is basically always heat that can be extracted from the air. Reverse cycle air conditioners are designed to heat the home in conditions as cold as minus 15°C, sometimes colder! In Melbourne's comparatively mild winter conditions, warming up your home will be fast, easy, and effective.
2. Beat the Melbourne Heat in Summer
It's not unusual for the mercury to climb above 40 on a hot summer day in Melbourne. In cooling mode, your reverse cycle system acts as a refrigerated air conditioner. With these systems, you can close all your doors and windows to keep out the heat. Your refrigerated system will extract the heat from the air inside your home, constantly cooling it until you reach the desired temperature.
3. Reverse Cycle Efficiency Is Off the Charts!
Reverse cycle air conditioners operate at up to 600% efficiency in normal conditions. This means that they can consume one unit of electrical energy and produce six times as much cooling or heating energy. When operating in mild conditions, some reverse cycle systems can even exceed 1000% efficiency.
However, even reverse cycle air conditioners need to be selected carefully. Units with higher energy star ratings will produce more energy-efficient results, so always check the energy ratings before you buy. More efficient systems often come with a higher price tag, but they will also pay for themselves over time thanks to lower running costs.
4. More Efficiency Equals Lower Electricity Bills
More efficient methods for heating and cooling will directly translate into lower energy bills and greater household savings. After all, the fewer kilowatts you need to feel comfortable, the lower your electricity bill will be at the end of the month.
If you couple your reverse cycle system with solar panels, you could potentially run your heating and cooling free of charge!
5. Greater Efficiency Is Also Great for the Environment!
Reverse cycle air conditioners are also environmentally friendly, and once again, this all comes back to efficient heating and cooling.
Reverse cycle systems use far less electricity than conventional electric heaters, and this means fewer greenhouse gas emissions. The ultra-efficient reverse cycle air conditioner also produces fewer emissions than gas heaters!
While reverse cycle units use refrigerant, most modern systems use R32 refrigerant, which has the lowest Global Warming Potential (GWP) of any refrigerant currently on the market.
6. A Wide Range of Systems to Meet Your Needs
Reverse cycle systems come in all shapes and sizes, meaning there is an option for practically every household and every budget.
If you want a reverse cycle system that you can install quite easily, a split system might be right for you. Split systems are perfect for climate control in a single room. These systems consist of an indoor unit and an outdoor unit, and many of them now come with built-in heat pump technology. This means split system air conditioners can heat in winter and cool in summer.
If you want whole-home reverse cycle technology, a ducted system is ideal for you. Ducted reverse cycle air conditioning allows you to use the same ducts for heating and cooling. They are controlled just like any other ducted system, and they come with all the advantages that a reverse cycle system has to offer!
For new-build homes, ducted reverse cycle systems are the number one choice for heating and cooling. If you're looking for lower installation costs and an easier way to get reverse cycle technology at home, we recommend installing one or more reverse cycle split systems!
Are you considering investing in ducted heating and cooling in Croydon? Maybe you're thinking about installing split system heating and cooling in Camberwell. For expert advice, sales, and installation services, chat to the team at Australian Climate Systems.
7. Packed with Technology
Reverse cycle systems are designed to be modern, efficient, and effective. This means that they naturally come with the latest heating and cooling technology.
When you get a reverse cycle unit, chances are it will come with a fully-programmable thermostat. As well as letting you precisely set the temperature, modern thermostats are packed with features like diagnostics, Wi-Fi control, and more.
Most reverse cycle air-cons also come with inverter technology, which allows your system to gradually power up and then steadily maintain the target temperature. Inverter technology allows you to reach the target temperature quicker, and it prevents unwanted airflow fluctuations. The result is more pleasant heating and cooling and even more energy efficiency!
8. Double the Functionality and Half the Expenses!
Getting your heating and cooling from one system just makes financial sense! It means you only need to pay to install, maintain, and repair one unit. Your reverse cycle system will also outstrip most standalone heaters and coolers in terms of affordable running costs.
Are you thinking about installing an evaporative cooler, a space heater, and a split system cooler? Save yourself the hassle and the energy costs and opt for a reverse cycle unit instead.
9. Most Systems Come with Built-in Air Purifiers
Australia is one of the asthma and hay fever capitals of the world, and this is perhaps most obvious in Melbourne. Pretty much all heaters and coolers use air filters, but many reverse cycle systems also boast air purifying technology.
As well as trapping more particles than traditional filters, this technology can even remove odours, deactivate viruses, and fight airborne bacteria!
10. Humidity Be Gone!
Melbourne isn't exactly known for its humidity, but things can certainly start feeling sticky, especially on hot summer nights. Reverse cycle units can remove excess humidity, seal off your home from outdoor conditions, and help you get a good night's sleep.
When compared to ceiling fans or evaporative cooling systems, a refrigerated reverse cycle cooler offers far superior humidity control.
11. The Power of Zoning for Ducted Systems
If you opt for ducted reverse cycle heating and cooling, you can take advantage of zoning technology. This allows you to divide your whole-home system into sections that you can heat or cool independently. For example, you can heat only the bedrooms and living areas on a cold winter night when the rest of the house is empty. Similarly, if you're working from home in summer, you can run the air conditioning in your home office and save power in the rest of the house.
Reverse cycle systems offer more options, more flexibility, and more savings. Zoning takes this to another level, making it a great addition to your ducted heat pump system!
12. Keeping You Safe and Warm
Heating is essential in the height of winter, but it also comes with safety risks, especially for younger children. Natural log fires bring an open flame into your home, and this can be a hazard if a young child gets too close. Similarly, portable units have hot heating elements that can be dangerous for adults and children alike. Even gas ducted heating systems come with the risk of carbon monoxide sickness, which may be rare but can also be fatal for your family.
There are steps you can take to minimise each of these risks, but reverse cycle heaters and coolers eliminate them altogether. There are no open flames, no exposed heating elements, and no carbon monoxide risks. If you want one of the safest heaters and air conditioners on the market, ask our team about reverse cycle air conditioning.
13. Quiet Operation
A modern reverse cycle system will be one of the quietest on the market. Whether you opt for a split system or ducted set-up, you can rest assured that all the noisiest parts of the unit are stored outside your property. The latest furnaces, heat pumps, and compressors are more efficient than ever, so even when you step outside, you will notice significantly less noise compared to other systems.
14. Professional Installation Is Value-Adding
In Melbourne's hot property market, having a professionally installed reverse cycle system is worth much more than a portable heater or an old air conditioner. If you want a HVAC unit that can maintain comfortable temperatures today and increase the value of your home in the future, invest in a reverse cycle system.
15. It Will Last for Years to Come!
You can expect your reverse cycle air conditioning to last for 20 years or more with proper servicing. This is much longer than your average portable system and on par with other modern, professionally installed systems such as refrigerated coolers.
So, not only is a reverse cycle system both a heater and cooler – it's also a system that you won't have to worry about for many years! Simply arrange maintenance every 2-3 years and repairs as required, and you will have one of the best heaters and coolers without any hassle!
Take the Next Steps
More and more Melbourne families are taking the next steps towards an all-electric home. Whether you want to turn off the gas or you just need a premium HVAC system for your family, a reverse cycle system will do the job.
Are you ready to accelerate towards a reverse cycle system? Whether you're looking to get started with the best heat pump heating and cooling in Box Hill, Vermont, or the surrounding Melbourne suburbs, Australian Climate Systems can assist you. Get in touch to discuss all your heating and cooling needs.