9 Signs You Need an Air Conditioning Service (and When It's Time to Replace Your System!)
February 04th, 2022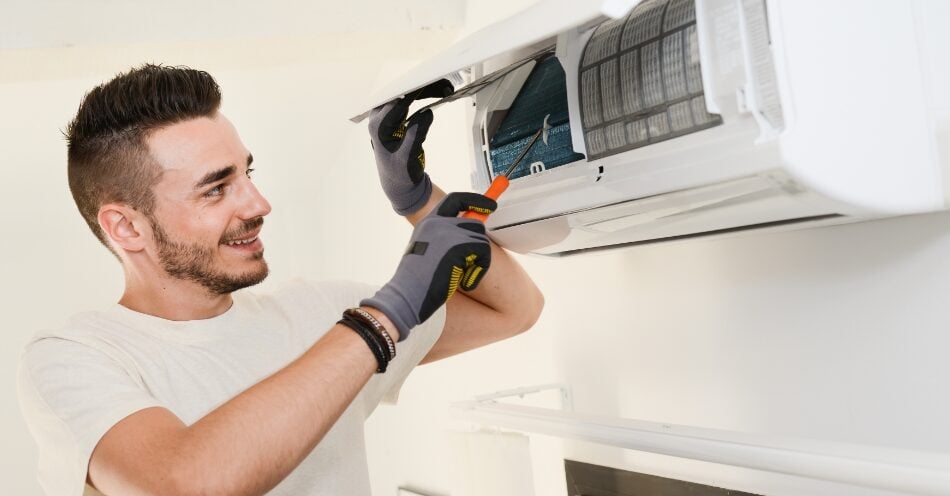 Regular maintenance is one of the most important steps you can take in caring for your split system or ducted air conditioner. While you might baulk at the costs at first, a poorly maintained air conditioner will only end up costing you more in the long term.
Coolers that are faulty or in poor condition will have to work harder to produce the same amount of cold air. They are also more prone to sudden breakdowns, which can lead to expensive air conditioner repair and maintenance costs. In extreme cases, a faulty air conditioner can lead to water damage in your roof, house fires, or other dangerous and costly situations.
Even if your air conditioner appears to be functioning properly, it could be causing your electricity bills to skyrocket in the summer months. In some cases, your air conditioner will be costing you more money but producing less effective results, which is the ultimate lose-lose scenario.
If you're lucky, your scheduled air conditioning service will come around and you won't notice any adverse effects. However, if you notice any of the signs listed below, you should arrange air conditioner servicing as soon as possible.
1. It's Been a While Since Your Last Service
How often should you service your air conditioning unit?
The answer will vary depending on who you ask, and many air conditioning professionals recommend yearly services. You certainly can't go wrong with a yearly service, but here at Australian Climate Systems, we recommend servicing your cooler every 2-3 years.
Of course, servicing time can vary depending on a range of factors, including manufacturer recommendations and warranties, your level of usage, and commercial operation versus residential operation.
If it has been 2-3 years or longer since your last service, we highly recommend calling us today and booking a service. Whether you need a split system service, evaporative cooling service, or air conditioning repair, we can assist you.
A long period of time between services is the most innocuous sign that you need an air conditioning service. However, if you notice any of the more sinister signs below, you need to book in before the three-year mark!
2. Your System Is Displaying Fault Codes
There's nothing worse than looking at your air conditioner and seeing the dreaded fault code or error code.
These codes are common across most systems and will be represented by a combination of letters and numbers such as U0, P4, or UH.
You should be able to find out what your error code means by checking in your user manual or searching online. Make sure to search by brand and model to ensure you're getting the most accurate information.
In some cases, you may be able to resolve these errors and faults yourself, but if you're ever unsure, be sure to call a professional.
Whether you need a Bonaire evaporative cooling service, Rinnai air conditioning services, or Panasonic and Daikin AC repairs, Australian Climate Systems can help you resolve your errors and get your system back to its best.
3. Smells and Sounds Are Coming from Your System
Is your Lilydale air conditioning system emitting an unpleasant odour? Maybe you're looking for Brivis evaporative cooling repairs to take care of a noisy cooling system.
If excessive noises or bad smells are coming from your system, you might need a split system service or an air conditioning repair.
Practically all air conditioners will make some level of noise while they're in operation. This is especially prevalent when the system first starts up. However, if you hear sudden noises, especially loud sounds, or any other strange noises that weren't there before, it's best to investigate.
Unusual noises like buzzing, rattling, and grinding are all tell-tale signs that something is going wrong inside your cooling system, such as a faulty or loose internal mechanism.
There are several reasons why bad smells might be coming from your air conditioning system. There might be a build-up of dust or microbial growth on an air filter or throughout your indoor unit. Unfortunately, a bad or musty smell might also be a sign of a bigger problem.
An air conditioning specialist can complete a thorough clean of your system and check for other issues, ensuring any strange smell is resolved while dealing with any underlying problem.
4. Dripping Water/Air Conditioning Leaks
Nobody wants to deal with leaks and the threat of water damage to their property. If you notice water pooling or dripping around your air conditioning system, contact a professional immediately.
In most cases, water around your air conditioner is actually condensation from the fan coil unit, although there can be other reasons for the presence of water around your indoor or outdoor unit, such as refrigerant leaks and water leaks. Whatever the case, you don't want leaks spreading to areas such as evaporator coils or electrical components, and you don't want them damaging your property either!
The experts at Australian Climate Systems can determine the exact cause of the issue and resolve it before further damage is done to your property or air conditioning system.
5. Short Cycling/Frequent Cycles
When you turn on a thermostat-controlled air conditioner, it will go through cycles. It will activate when you need it and switch off when it reaches temperature.
Short cycling occurs when your air conditioner turns off too quickly, resulting in the system constantly activating and deactivating.
If your split system air conditioner is stuck in a pattern of frequent cycles, it might just need some servicing and repairs to get it back on track. However, if there is a larger underlying problem, replacing your air conditioner may be a more affordable long-term option.
6. Airflow Problems, Including Blowing Out Hot Air Instead of Cold Air
The only time your air conditioning should be blowing out hot air is when you're using it in heating mode! If you're not using reverse cycle air conditioning mode but you're still getting heat, you might have a problem.
The first thing to do is double-check the temperature set on your thermostat and ensure you're using a cooling mode on your system. If warm air is still plaguing your system, it's time to call a professional.
Hot air isn't the only airflow problem you could face. You could also be experiencing restricted or poor airflow, where cool air is coming out of your system but just at such a low level.
Australian Climate Systems can examine your unit, complete services and repairs, and make professional recommendations. Whether you have air conditioning in Ringwood or Hallam, our professionals will get to the bottom of your airflow issues.
7. Your Air Conditioning System Is Just Not as Effective as It Used to Be!
Whether you have a split system air conditioner or refrigerated cooling, this is a problem that any property could face.
Over time, you might find that there's no particular problem with your air conditioning but that it just doesn't work as well as it used to.
Maybe your air conditioner takes longer to turn on or it spends far more time cooling down a room and bringing it to a comfortable temperature during particularly hot weather. Perhaps your system struggles to lower humidity levels and moisture levels. Problems like this can be caused by ageing systems, as well as issues such as blockages, damaged parts, and refrigerant problems.
There's a good chance that you can get your air conditioner working at its best again! Invest in air conditioning maintenance and professional services and repairs, and you can get your AC back to day-1 operating condition, even in the middle of summer.
8. Your System Is Not as Efficient as It Used to Be
A lack of efficiency is usually directly linked to a less effective air conditioner. After all, if your system is working harder to produce the same (or worse) results, this will result in higher electricity bills and less eco-friendly operation.
It's not always easy to link a higher electricity bill to your air conditioning. After all, your energy costs are always going to be higher when you're using your system regularly, and your supplier might also change their fees and charges.
However, if your billing structure hasn't changed and you've noticed an increase in your energy bills during and in between peak system usage, it's worth investigating. This is especially the case if your system is also experiencing the performance issues listed above.
9. You Have an Old Air Conditioner/Your System Is Prone to Breakdown
If you have an old air conditioner, it will inevitably need more attention and care. This is the case even if you have maintained regular service intervals throughout your system's lifetime. Over time, wear and tear will catch up with any system!
If your air conditioner completely breaks down, this is another obvious sign that your system needs repairing. If it is prone to regular breakdowns, more proactive servicing could help to lessen these problems.
But this brings us to our next point…
When Is It Time to Replace Your Air Conditioner?
Believe it or not, air conditioner servicing isn't always the best course of action when you're experiencing issues.
If you've had your air conditioner for 10 or more years, or you're experiencing constant issues with your system, a complete replacement can be more affordable than constant servicing.
Replacing your air conditioner will also give you access to a high-performance, energy-efficient system. New air conditioners are generally quieter and packed with modern features that enhance the experience. You will enjoy lower running costs overall, and you won't have to worry about the availability of replacement parts.
When you partner with an air conditioning company, it's recommended that you choose a team that can service and repair your air conditioning in Blackburn, Boronia, or wherever you are.
As well as this, you should choose a professional that offers sales and installations of new systems.
Your air conditioner technician should also be able to help you with a wide range of brands. That way, you can get Braemar evaporative cooling services, LG air conditioning services, Brivis evaporative cooling repairs and services, and much more.
Get the Best Solution for Your Air Conditioner in Melbourne
With more than 25 years of experience, Australian Climate Systems understands Melbourne's weather. We can help you select, install, service, repair, and maintain the ideal heating and cooling solution for your property. From compressor issues to electrical issues and water leaks, we handle it all.
Serving a wide range of areas across Melbourne, we can come to you when you notice any of the warning signs listed above. We'll also offer expert advice and recommendations, so you know exactly when to replace and update your system.