What Does An Air Conditioning Service Include?
December 28th, 2021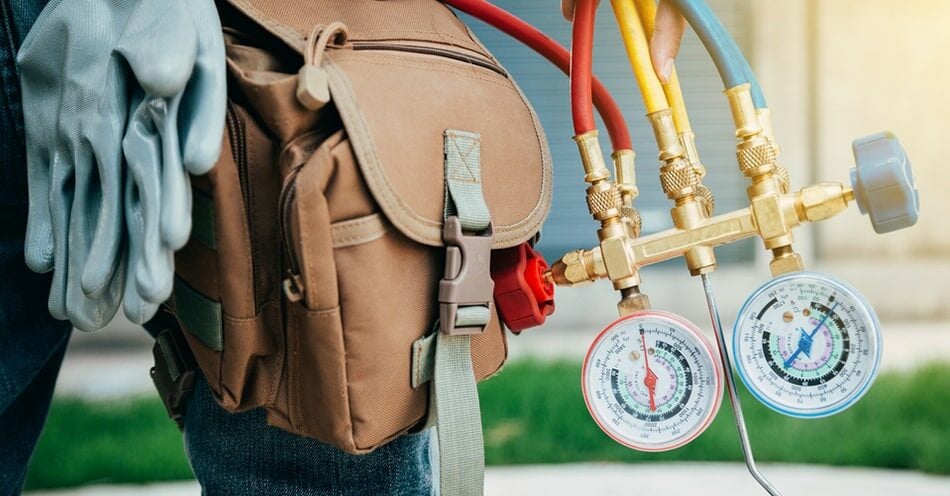 When it comes to air conditioner services and repairs, you should never wait until your system stops working. We recommend having your heating and cooling serviced regularly and proactively. This will ensure your air conditioner is always operating at its best, which will help to increase its efficiency while keeping running costs low.
To help you understand why air conditioner servicing is important, we're going to outline exactly what's included in an air conditioner service when you partner with our professionals.
We'll cover split system air conditioning and ducted air conditioning, touching on evaporative cooling, refrigerated cooling, and add-on air conditioning systems. We'll also answer some common questions, including how often should an air conditioner be serviced and how long will an air conditioning service take?
Read on for more advice and expert knowledge from Melbourne's air conditioning experts.
Why Air Conditioning Servicing Is Important for Homes and Businesses
If you're wondering if your home or business needs air conditioning servicing, then the answer is YES!
Air conditioners should be serviced on a regularly scheduled basis, as well as whenever you notice signs of malfunction.
If you're a business owner, you should prioritise staying cool in the summer heat and warm in cool winter weather. Modern reverse cycle air conditioning can heat and cool your home, so you need to keep on top of your system all year around. Quality air conditioning will increase the productivity of your staff and keep your paying customers happy.
Of course, we all want to be comfortable at home, so servicing your residential heating and cooling should also be a priority. This will also provide you with much-needed peace of mind.
Proactive air conditioner servicing can save you money, ensuring your system remains energy efficient and working at its best. On the other hand, neglecting your system may lead to expensive repairs or replacement services that could have been avoided for many years.
Air Conditioning Service Checklist – What's Included?
The exact work we carry out on your air conditioning system will vary based on a range of factors. Here is a checklist of some of the most important work we will complete.
Professional Air Conditioner Cleaning
Cleaning is the major element of most heating and cooling services, and this all comes down to dust! Your air conditioner filter will take dust and irritants out of the air so that you can enjoy fresh, clean air from your system. But all that dust has to go somewhere.
A build-up of dust will reduce the effectiveness of your system over time. This will cause your air conditioner to work harder, meaning higher electricity bills and less cool air.
A professional air conditioner repair team can perform cleaning on your indoor air conditioner unit, helping to bring it back to its best. At Australian Climate Systems, we utilise a special spray that can activate and remove the dust on your coil fins and throughout your system.
Checking the Remote Control and Ensuring All Functions Are Operational
Your controller is a key part of how you use your air conditioner. Our team will check your remote control and any wall mounted control to ensure it is working properly.
Modern air conditioners have a range of functions, including built-in thermostats and reverse cycle heating and cooling. Air conditioning service companies will test and troubleshoot all the functions of your air conditioner, including thermostat tests, to ensure your air conditioner is working at its best.
Whether you have heating and cooling in Ringwood, Chadstone, or Kew, we will ensure your system is prepared for year-round comfort.
Checking Refrigerant Levels
In refrigerated cooling systems and add-on air conditioners, refrigerant plays a key role in keeping your property cool. A professional can look at refrigerant levels, check for leaks, and ensure there are no other problems in this department.
Checking All Internal Components and Electrical Components
Inspections, cleaning, repairs, and replacements will be carried out on your indoor unit to ensure all internal components are operating at their best.
Checking Airflow and Inspecting Return Air Grilles
Airflow is the main function of any heating or cooling unit. Our team will inspect return air grilles, as well as other system components. We will ensure the air your system provides is consistent and accurate in terms of temperature and strength.
Outdoor Unit Inspections
All air conditioning units have an outdoor system of some kind, from a split system air conditioner to evaporative coolers and refrigerated cooling. A qualified technician will examine every element of your outdoor unit, including the fan, compressor, and condenser coil.
Maintenance and Repairs as Required
In some cases, your air conditioning will require maintenance or repairs that are outside the scope of a standard service. The expert service technicians at Australian Climate Systems can complete all additional work required, provide a lasting air conditioning solution, and make further recommendations.
How Often Should My Air Conditioner Be Serviced?
Air conditioner service times can vary based on manufacturer recommendations and how often you use your system, as well as whether you're using it for residential or commercial applications. In general, we recommend booking an air conditioner service every 2-3 years. If you're not sure of your system requirements, feel free to reach out to our professionals.
How Long Does Air Conditioning Servicing Take?
Our team generally takes anywhere between 30-90 minutes for a standard air conditioner service. Factors that can affect service time include extra problems that are discovered during our inspection and anything that hinders our access to your system.
What Is the Cost of Air Conditioner Services?
This will vary based on how long it takes to complete the job, any extra repair work that is required, and whether we are servicing a residential or commercial system.
For a more accurate estimate of servicing costs for air conditioners and evaporative coolers, feel free to contact our team.
What Is the Cost of NOT Servicing An Air Conditioner?
As we've already discussed, failing to maintain your air conditioner can lead to less effective and less energy-efficient heating and cooling, as well as increased discomfort, higher electricity bills, and a greater likelihood of facing expensive and urgent repair and replacement costs. Another consequence is an increased carbon footprint, as your system will be working much harder.
In extreme cases, heating and cooling units can even lead to house fires. A well-maintained system will greatly reduce this fire risk.
What Air Conditioner Brands Can Australian Climate Systems Service?
Air conditioning specialists should be able to work with practically all major brands and all air conditioning models. Australian Climate Systems is no exemption. We work with a wide range of brands, including but not limited to LG, Panasonic, Daikin, Rinnai, Braemar, and Bonaire, to name just a few.
Need help with Daikin air conditioning repair, Brivis evaporative cooling services, or LG air conditioning service and repair? We'll be there!
Australian Climate Systems can assist you with split systems in the Yarra Valley, multi split systems in Mooroolbark, and heating and cooling in Toorak. Our service providers also offer a full range of other air conditioning services across Melbourne, including new air conditioning installations.
To arrange regular maintenance and all the other heating and cooling services you need, feel free to reach out to our friendly team of professionals.