All About Brivis Touch Wi-Fi
March 18th, 2022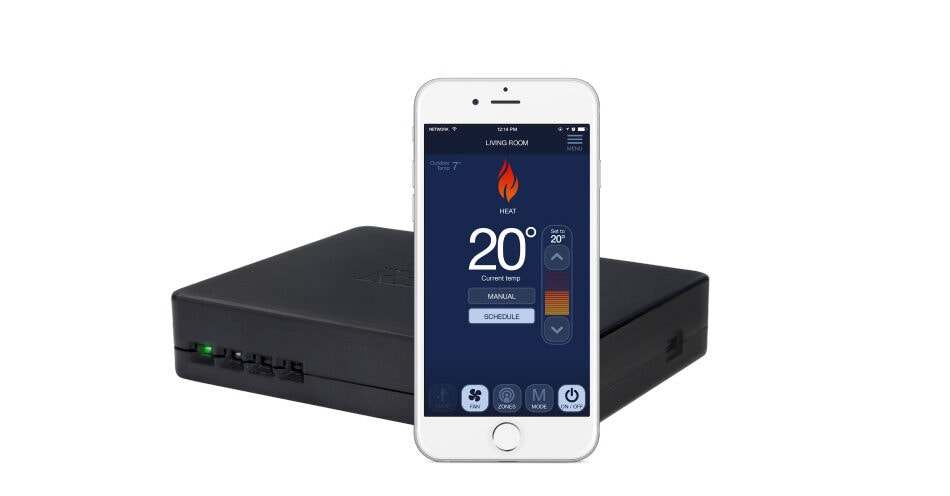 Who doesn't love having the latest technology to operate their devices? Whether it's for hydronic heating or gas space heaters, Melbourne homeowners love benefiting from the latest Wi-Fi remotes.
In this article, we're going to discuss the Brivis Touch™ Wi-Fi kit, which is available for new systems and can be retrofitted to suit existing units.
Heating and cooling companies are constantly developing new and innovative products to reduce consumer problems, from releasing the latest models to updating old processes. Brands like Brivis are on the cutting edge of modern heating and cooling solutions, and the Brivis Touch Wi-Fi Kit is no exception.
Interested to see how it works and how you can benefit? We've got you covered. Keep reading to learn more.
What Is the Brivis Touch Wi-Fi Kit?
The Brivis Touch™ Wi-Fi kit contains a Touch Wi-Fi module and all the tools and accessories you need to get started. The kit communicates with your existing Brivis Networker controller and a mobile app that you can download for free.
Once everything is assembled, you can enjoy greater control over your heating and cooling than ever before!
Main Features of the Brivis Touch Wi-Fi Kit
There are so many features and benefits to enjoy when you choose Brivis Touch™ Wi-Fi, including:
A Thermostat in Your Hands
With the Brivis Touch Wi-Fi Kit, you always have a thermostat in your hand. All you need is a phone, the app, and an internet connection, and you can enjoy the full benefits of a Brivis remote control.
Once you've successfully set up the kit, you can easily adjust the temperature whether you're away or just lying down. No need for wires, Bluetooth, or location limitations!
The Wi-Fi Kit module communicates with your home Wi-Fi network, but you can be connected to another Wi-Fi or mobile network to access the app and activate your remote control.
Suitable for Heating and Cooling
The Brivis Touch kit can be paired with your compatible Brivis evaporative cooling system, ducted gas heater, or Dual Comfort System (also known as add-on air conditioning).
This means you can maximise the use of your Brivis products all year round, whether it's switching on the heater remotely in winter or turning up the AC from the couch in summer!
A Range of Convenient Functions
As well as temperature control, the Wi-Fi kit allows you to do pretty much everything that your wall-mounted controller can do. 
You can adjust your comfort level, select from a range of modes, and even control zones if you have zoning set up.
Easy and Convenient To Use
Every aspect of the Brivis Touch Wi-Fi kit is easy to set up and convenient to use. The kit contains all the cables, screws, and plugs you need to set up the module (it even comes with a mini-screwdriver!) The manual will guide you through configuring Brivis Touch with your wireless network so you can quickly get started.
Once that is done, you can easily install the app, and navigating the interface is a piece of cake!
Available for Multiple Users
There might only be one wall-mounted controller in your home, but Wi-Fi control can multiply your convenience! Multiple users can have access to the same heater or cooler, meaning any connected member of the household can activate your Brivis system remotely! You can also revoke all remote access in security settings, but all users will have to reconnect after you do this.
More Than Just a Brivis Wi-Fi Kit
Did you know that Brivis is part of the Rinnai family of products? This means that you can also pair the Brivis Touch Wi-Fi kit with your compatible Rinnai systems!
5 Ways You Can Use Your New Wi-Fi Controls
1. Turn on your heater and cooler before you get home. Pre-heat or pre-cool for complete comfort!
2. If you forget to switch off your Brivis system before leaving home, you can simply log on, switch off, and save money in a few taps.
3. Adjust the settings on your heater or cooler from any room of the home.
4. Feeling lazy? It happens! Adjust your system without getting up from your chair, off the couch, or out of bed.
5. Timers are great on heating and cooling systems, but only if you remember to set them. With a remote control on your mobile phone, you can set even if you forget! Use your Wi-Fi controls to set a timer on compatible systems for increased automation.
Brivis Touch Wi-Fi Kit Compatibility
To utilise the Brivis Touch™ Wi-Fi kit, you will need a compatible Rinnai or Brivis Networker Controller, as well as a compatible mobile device and Wi-Fi setup.
Compatible Controllers:
N-C3
N-C6
N-C7
Compatible Mobile Devices:
iPhones with iOS 8 or higher
Android phones with Android 4.0.3 (API 15) or higher
Compatible Wi-Fi Systems:
Wireless connection of 802.11b/g/n @2.4GHz (Security: WPA2)
Retrofitting Is Available
Do you have a Brivis or Rinnai ducted heater, add-on cooler, or evaporative cooler that is compatible with the Touch Wi-Fi kit?
Just because you didn't get the Wi-Fi kit at installation, it doesn't mean you can't reap all the benefits!
The Wi-Fi module can be retrofitted to suit existing heating and cooling systems, so you don't need to miss out.
Download the Mobile App!
Here's a convenient link to the iOS and Android apps for Rinnai and Brivis Touch systems.
If your system is all set up and ready to go, install the app now to get started.
A Bit About Brivis
Brivis is a household name for heating and cooling across Australia, and particularly in Victoria. With a manufacturing facility in the Melbourne suburb of Braeside, Brivis and parent company Rinnai keep us comfortable and support the local economy.
For the ultimate comfort and energy efficiency, Brivis and Rinnai are two of the best names to remember. From Brivis ICE™ cooling systems to Rinnai split system air conditioners to Touch Wi-Fi Controls, there are many innovative products to enjoy!
Interested in one of these systems? Click the links to learn more about our Brivis and Rinnai services. 
Looking for the Convenience of Brivis Touch Wi-Fi?
Experience the comfort and convenience that you deserve with Brivis.
You can check out their products and learn great tips on proper maintenance here at Australian Climate Systems. Our team offers everything from supply and installation to maintenance and repairs for Brivis, Rinnai, and other leading brands. If you're interested in upgrading to Brivis Touch™ Wi-Fi, we can assist you!
Australian Climate Systems is a locally owned and operated business that has been serving Melbourne suburbs for well over 25 years. We are also a four-time recipient of the WOMO Service Award since 2015. You're in safe hands with our seasoned and trustworthy heating and cooling professionals!
Contact us today to learn more about our full range of services.