Ducted heating upgrades: Much more than great, warm air
March 16th, 2020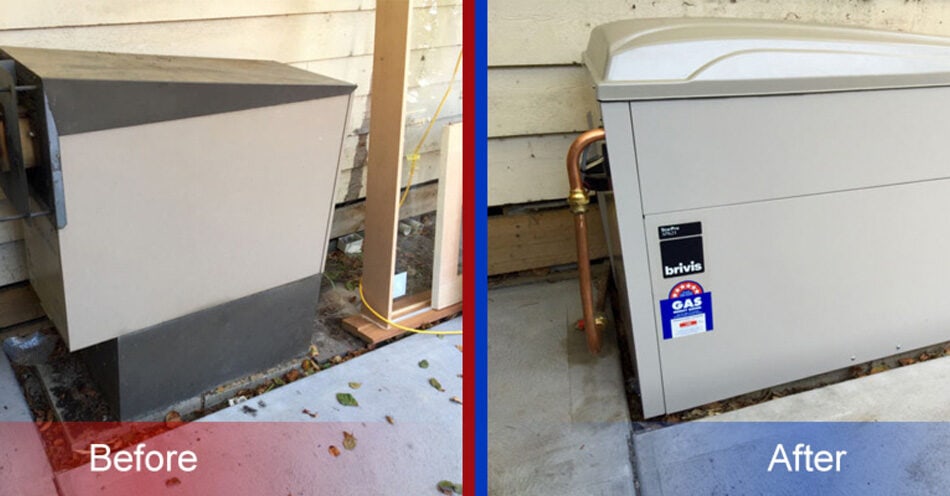 Those that have upgraded to a new ducted heating system after running on an older one will be able to attest to the incredible benefits of making the change. From more powerful and consistent warm air, to less noise and a smaller power bill, the advantages of investing in a new system are endless.
What is quite often forgotten by many, however, is the more aesthetic benefits that a new system can bring. Take these two changeover upgrades that we recently performed in Melbourne's south-east. Both were Brivis ducted systems, and both were running alongside the building in a similar way.
As you can see, these older units – whilst doing the job at the time – were quite clunky, cumbersome, and have some dangerous jagged edges. They are not particularly pretty to look at, as anyone who has a ducted unit within eyesight of the street will attest to. The replacement unit is much cleaner, poses less risk of any harm caused by accidentally bumping into it, and overall just looks much more presentable.
The unit itself is Brivis' now well renowned 6 star ducted heating system. It is capable of incredibly high output levels, whilst being less expensive to run than the old unit. This is due to how it uses the energy that it consumes, using an innovative heat exchange system which is capable of churning out a much more consistent temperature.

This changeover involved a Brivis 5 star ducted heating unit. Whilst it is no match for its incredible 6 star relative, it is still capable of producing great quality air. The older unit, as you can tell by comparing the bottom of each, was very large, with a dangling wire that could pose risks for those moving around the area.
This changeover represents how much tidier a new ducted heating system can be. The wire is now shorter, affixed to the wall, and is far less bulkier than the original. On top of this, the jagged edges have been replaced with a much more innocent fixture. We also remodelled the gas link up to a more modern one, ensuring its longevity for the foreseeable future.