Why You Should Replace Your Old Room Air Conditioner with a Split System
February 18th, 2022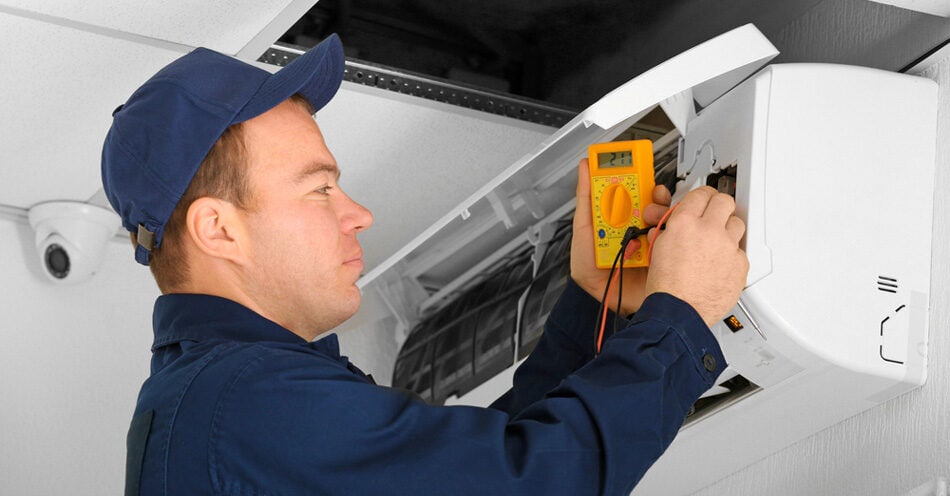 If you still have an old, box-style air conditioner in your home, then replacing it with a split system is a great idea.
A new split system air conditioner will be the perfect replacement for a box air conditioner. Both units are designed to cool a single room or a few nearby spaces, and modern split systems come with a range of advantages that will benefit you for years to come.
Generally speaking, you won't have to remove your old room air conditioner before installing a split system, so there's no need to delay. On top of this, we offer affordable installation costs and can recommend a range of creative solutions for filling the space when you remove your old room air conditioner.
If you still need more convincing, read on to find out why you should replace old box-style air conditioners with modern split systems in Melbourne.
Split Systems Vs Box-Style Air Conditioners: A Comparison
In order to explain the advantages of split system air conditioning over box-style air conditioners, we first need to understand how each system operates.
What Is a Box-Style Air Conditioner and How Does It Work?
When we talk about room air conditioners or "box-style" air conditioners, we're referring to the self-contained units that hang in the windows of your home.
These air conditioners have an indoor part of the unit that sits on the inside of your window and an outdoor condenser on the exterior of the window. These all-in-one units take over one of your windows in order to cool your home.
Your box-style air conditioner will suck in air from the inside of your home and cool this air by sending it over an evaporator. The cool air is then distributed back throughout your home while any warm air is expelled through the exterior side of the unit.
What Is a Split System Air Conditioner and How Does It Work?
In theory, a split system air conditioning unit works very similarly to a box-style air conditioner. Both systems have an indoor unit and an outdoor unit, but with a split system, the two units are completely separate. Both systems also absorb the heat from your room and create cool air that's sent back throughout the property.
With a split system air conditioner, you won't have to sacrifice one of your windows! Instead, the separate indoor and outdoor units are connected by a series of pipes. The outdoor unit sits discreetly against your external wall and the indoor unit – or head unit – is usually placed on an internal wall near the ceiling.
Split System Air Conditioning: High Performance and Energy Efficiency
The unfortunate truth about box or window air conditioners is that they're likely to be older, lower quality, or a combination of both. This results in inevitable problems with performance, as well as a less energy-efficient system.
Your box-style air conditioner will need to work harder to keep your room at a comfortable level, resulting in higher energy costs. It's also unlikely to offer the same level of comfort offered by a modern split system.
Here are just several reasons why old room air conditioners lag behind split systems:
Box-style air conditioners are installed in the window frame. This often leaves a gap in the frame where hot air can enter your home. A split system utilises pipes for a seamless installation and a gap-free connection between the indoor unit and outdoor unit, making it far more energy efficient
Split systems have larger evaporators and offer a more effective distribution of cool air. This airflow allows your room to cool down sooner, meaning the system will shut down faster. The result is more effective cooling, less energy used overall, and lower energy bills!
A split system will cool air much more precisely. This greater level of precision assists in making your space cooler quicker, resulting in increased comfort and lower energy expenditure.
The Many Features of Split System Air Conditioners
Box-style air conditioners are pretty bare-bones in terms of features. They are a traditional air conditioning solution and that's pretty much all they offer.
Split systems have taken over the air conditioning market in Australia and internationally. Because of this dominance, you can expect feature-rich air conditioning when you choose split systems in Croydon, Boronia, and throughout Melbourne.
For example, Daikin split systems offer an Intelligent Eye Sensor, which automatically switches your system into energy-saving mode when the room is unoccupied.
LG split systems offer Wi-Fi Smart Control and Smart Diagnosis features, and Panasonic offers advanced indoor air quality.
These are just a few of the leading brands that offer advanced technology and impressive features with their split system air conditioners.
Invest in a Quieter Air Conditioning System
Another major benefit of split systems over old room air conditioners is the level of noise they create.
Box-style air conditioners sit in your window cavity and are directly connected to the condenser on the other side. This means that all the noise created by the condenser also comes in through the window, creating a very noisy environment. These air conditioners are especially unsuited to living rooms and bedrooms.
As we mentioned above, split system air conditioners are connected by pipes and wires in the wall. The outdoor unit sits against an external wall of your home, meaning little to no noise from the condenser can be heard from indoors.
Split systems have been further refined over time, and modern units offer whisper-quiet operation that is well-suited to living and sleeping environments.
Split Systems Offer Reverse Cycle Technology!
Old room air conditioners are basically a cooler in a box and they offer very little else. With a split system air conditioner, you can enjoy complete comfort all year round thanks to reverse cycle technology.
A reverse cycle split system is essentially two systems in one. It will allow you to warm your home in winter and cool it in summer. In heating mode, your split system will absorb heat from the outside, distribute warm air throughout your room, and expel cold air through the outdoor unit.
If you want to upgrade your cooler and invest in a heater without the need for added installations, a split system is definitely the way to go.
Multi-Head Split Systems Are Available
Box-style air conditioners and split systems are both designed to cool a single space or a few adjacent spaces at most. However, if you opt for a multi-head split system air conditioner, you can heat or cool multiple rooms when it suits you.
Multi-head split systems are also known as multi-split systems. They allow you to install multiple indoor units, all connected to one outdoor unit.
Each indoor unit can be controlled independently, which results in a fully customisable whole-home heating and cooling solution. With only one outdoor unit, you can also save money on installation costs.
Enjoy Aesthetics That Are Sleek, Space-Saving and Value-Adding!
If there's one thing that we can all agree on about window air conditioners, it's that they are a visual eyesore.
They make the inside of your home look old and outdated, and they protrude out your window, ruining the appearance of your façade. Worst of all, they take up perfectly good window space, partially blocking your view and access to natural light.
Split system air conditioners take up far less space due to their sleek, modern appearance. The head unit sits seamlessly at the top of your wall, and the outdoor unit can be tucked away at the bottom of an exterior wall, rather than sticking out a window.
Split systems don't take up any room on the floor inside, and they leave plenty of room to hang photos or display art on the walls.
If you want to add value to your home by creating broad aesthetic appeal and creating extra space, then removing your window air conditioner and installing a split system is one of the most effective steps you can take.
Comprehensive Split System Installation and Old Air Conditioner Removal in Melbourne
If you're ready to take out your old air conditioner and install a modern split system, it's important to find a team who can do the whole job for you.
Make sure your licensed installer can help you remove the old air conditioner, install the split system, and take care of everything else that might be involved in the process.
Whether you want a single split system in Dandenong or a multi-head split system in Lilydale, Australian Climate Systems can help you.
We'll replace your old AC with a modern split system from brands like Panasonic, LG, and Rinnai, to name just a few. We offer affordable installation costs and the best solutions on the market.
When we remove your old air conditioner, we can recommend a plasterer or a painter to fill the space left by the unit. There are so many creative solutions, from simply filling the space to creating a feature window! Our team can put you on the right path and help you coordinate all the services that you need.
As specialists in air conditioning supply and installation, as well as servicing and repairs, we can also offer ongoing assistance to keep your split system at its best.
Make the switch to split system air conditioning today. Get in touch with a licensed installer from Australian Climate Systems to get started.