Gas vs Electric Heating and Cooling
February 28th, 2022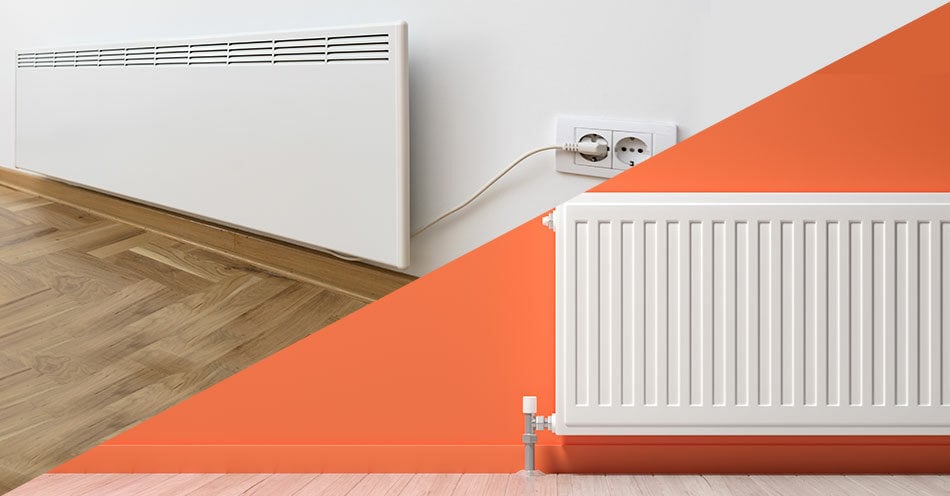 According to Australian Government statistics, heating and cooling account for roughly 40% of household energy costs. When you're investing in heating and cooling for your home, it's important to select a system that is energy efficient without sacrificing effective operation.
There are many factors to consider when selecting a HVAC system, but the number one factor that people seem to come back to is gas vs electric.
In this article, we're going to compare gas heating and cooling against electric heating and cooling. We'll consider performance, affordability, impact on your carbon footprint, and a range of other factors in order to determine whether gas or electric comes out on top.
Gas vs Electric Heating: A Comparison
While they are often considered together, heating and cooling can be two completely different beasts.
We're going to begin our comparison by looking at heating. So without further ado, here is how electric heating and gas heating stack up.
How Does a Gas System Warm the Home?
Gas heating is powered by either LPG (Liquefied Petroleum Gas) or natural gas. In Melbourne, natural gas is by far the more common option.
Gas heating systems generate heat energy by drawing air into a furnace. The furnace heats this air in a process called gas combustion, and the warm air is then circulated throughout your house for cosy comfort during those cold days and nights.
The most common form of gas heating is gas ducted heating. These systems use a series of ducts to distribute warm air throughout your property for whole-home heating. They remain incredibly popular in cold climates such as Melbourne.
Other options for gas heating include:
Gas space heaters: These gas heaters are ideal for heating a single room. Gas space heaters like the Rinnai Energysaver send warm air out into the room just like a gas ducted system. Flued and unflued gas heaters are available.
Gas log fires: These heaters also use gas combustion to warm up your home. Instead of spreading heat via hot air, a gas log fire relies on the radiant heat from flames for its heat output. Gas log fires are the heating of choice for families who want an aesthetically appealing centrepiece that also heats the room. These systems can be installed by retrofitting an existing fireplace, creating a false fireplace, or installing a weatherproof box
How Do Electric Heaters Warm the Home?
When it comes to electric heating, there are two main types to consider.
If you choose an electric furnace, your heating will work in a similar way to gas heating. The only difference is that the heat is produced using an electric heating element via electrical resistance rather than gas combustion.
This kind of heating is common in portable forced-air electric heaters and electric convection heaters. These systems have a bad reputation because of their high heating costs.
The other type of electric unit is a heat pump system. These systems are most common in reverse cycle heating and cooling.
A heat pump system warms the home by absorbing heat from the outside air and distributing it around a room or throughout your property. In contrast to other electric heating systems, heat pumps are incredibly energy-efficient and affordable. They can operate at more than 100% efficiency and boast a small carbon footprint.
Some of the most popular options for heat pump systems in Melbourne include:
Split systems: These systems can heat or cool individual rooms in the home and are comprised of an indoor unit and an outdoor unit. For heating and cooling in multiple rooms, you can also choose multi-split systems, which run several indoor units powered by a single outdoor unit
Ducted Reverse Cycle Air Conditioning: These heat pump systems can warm or cool your entire property by distributing air through a series of ducts. The ductwork for a reverse cycle air conditioner is installed through the ceiling or floor.
What about Hydronic Heating Systems?
Hydronic heaters are known for their low running costs and silent operation. These systems work by heating water and distributing this radiant heat around your home. Hydronic heating can be connected to panels, towel rails, floor heating systems, and more.
The water used in hydronic systems is heated using a boiler, which can be powered using gas, electricity (heat pump), or other fuel types.
So, depending on your preferences and your property, hydronic heating can be powered by either gas or electricity.
Gas Heating Vs Electric Heating: The Verdict
When it comes to heating the home, Melburnians have traditionally turned to gas as their fuel of choice. Gas heating systems were historically cheaper and more efficient, but things are changing.
Gas prices continue to rise, affecting the running cost of gas systems. With Australia exporting so much of its gas, supply is also becoming less certain. The advent of heat pump technology has also made electric heating a more affordable alternative.
When it comes to gas vs electricity, here is our advice:
For complete comfort, most people agree that you can't go past gas. It produces a much nicer heat compared to electrical systems and is favoured in colder climates such as Melbourne.
If you live in Melbourne and your property is already connected to gas mains, a gas heating system is usually more affordable to install. In regional areas where properties aren't always connected to gas, you may want to consider reverse cycle heating
Electric split systems and reverse cycle air conditioners are the cheapest options. They have the lowest running cost and are the most energy-efficient
In terms of performance, electric systems are often limited by their size. Most houses have standard single-phase power and can only heat around 16 squares at once. Gas systems can easily achieve double this
If you're concerned about fossil fuels and your environmental impact, an electric system with solar panels may be the way to go. However, solar battery technology is still developing and solar systems can be expensive, so this is worth considering before making the investment
As you can see, there is no clear answer when it comes to gas vs electric. Going forward, electric systems are likely to be preferred for their cost-effectiveness and eco-friendly operation, but gas remains an excellent option for heating and cooling in Melbourne, especially if that authentic and comfortable heat is what you're after.
The type of gas or electric system you choose will also affect the overall performance and affordability of your heating. As Melbourne's HVAC experts, Australian Climate Systems can recommend the best heating and cooling in Mitcham, Boronia, and across Melbourne, taking into account your property and your preferences.
To discuss residential and commercial heating, feel free to reach out to our team.
Now let's talk about cooling!
Is There Such a Thing as Gas Air Conditioning?
When discussing heating and cooling, the gas vs electric debate primarily applies to heaters.
While coolers can vary in terms of features, energy efficiency, and overall performance, every cooler runs on electricity, not gas.
However, this doesn't mean that there's not a lot to consider when it comes to air conditioners.
First and foremost, you can still choose to have gas heating and electric cooling. If you already have gas ducted heating, you can often add-on refrigerated air conditioning and use the same ducts to distribute both hot and cold air. In Melbourne, this combination is the best of both worlds!
However, not all existing ductwork will be compatible with add-on cooling. The licensed technicians and installers at Australian Climate Systems can recommend if add-on air conditioning is an option for you.
Another way to have gas heating and electric cooling is by installing a split system or multi-split system to complement your existing gas ducted heating. These sleek units require minimal installation compared to ducted systems, so they're the perfect option for adding air conditioning to a home that already has gas ducted heating.
Separate ducted cooling systems can also be added to a property that already has gas ducted heating. You can choose between refrigerated ducted cooling and evaporative ducted cooling. Refrigerated systems generally offer better performance while evaporative cooling is more natural and boasts lower running costs and less maintenance overall.
Of course, if you want a completely electric system, you can't go past a ducted reverse cycle air conditioner. These systems offer energy-efficient heating and cooling, eco-friendly design, a small carbon footprint, and solid performance. This could be the perfect choice if you want to take advantage of a solar panel installation.
Other Heating and Cooling Considerations
At Australian Climate Systems, we pride ourselves on being the experts in heating and cooling for locals in Templestowe, Ringwood, and all across Melbourne.
We know how important the decision between gas and electricity is, but we also know that there are so many other factors to consider.
For example, you need to make sure your heating and cooling system isn't too large or small. Size really does matter, and if you get this wrong you will either end up paying too much or getting stuck with an underperforming appliance (or both!)
You also need to consider whether you want central heating and cooling for your entire home, or space heating and cooling for specific rooms. If you opt for a whole-home central heating solution, it's worth looking into zoning options so you don't waste money and energy on empty rooms.
When it comes to cooling, ceiling fans have low running costs and even less energy expenditure. However, they should not be considered as a complete alternative to air conditioning or evaporative cooling. This is because fans DO NOT actually cool the air or reduce humidity levels. All they do is move the air around, and while this can make you feel cooler for a little while, it's no substitute in the height of summer.
Finally, when it comes to heating and cooling, be smart about how you use your thermostat. Your energy usage can go up as much as 10% for every degree difference. Expert advice suggests that thermostats should be set between 25 to 27°C in summer and 18 to 20°C in winter.
No matter what kind of heating and cooling you're looking for, the experts at Australian Climate Systems can assist you. We specialise in supplying and installing the best gas and electric systems on the market. Our team can recommend a solution for you, take care of heating and cooling services and maintenance, and respond fast when you need repairs for your heating and cooling.
For advice on the best systems for your needs based on your lifestyle, location, property, and preferences, get in touch with Australian Climate Systems today.