Split Systems in Winter - Are They Effective?
July 25th, 2022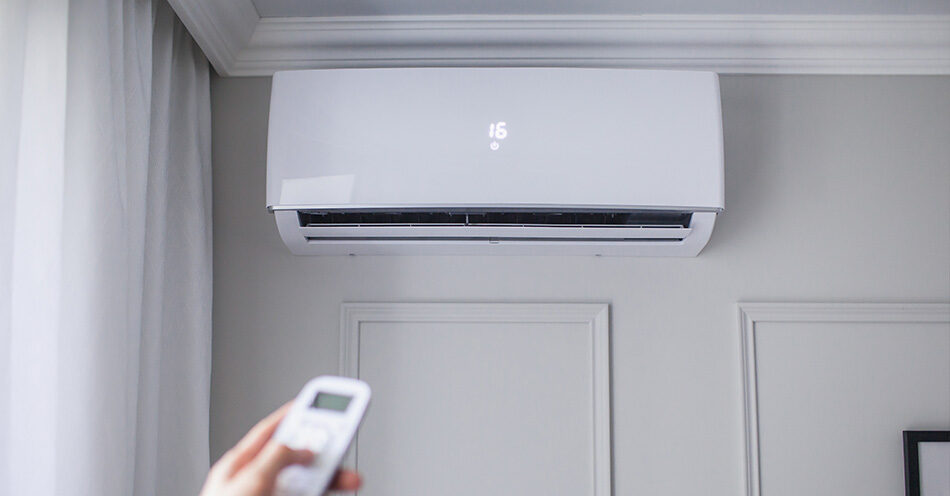 When people think of split system air conditioners, they usually think of air conditioning. After all, it's right there in the name!
But what would happen if you chose to run your AC in winter?
If you have a standard air conditioner, you will just make yourself even colder! However, if you have a reverse cycle system, you can benefit from running your air conditioner in winter.
Reverse cycle air conditioners can cool your home in summer and warm it up in winter.
Read on to learn more about split systems in Melbourne. We will cover topics including how you should use your system in winter, and how they compare to other forms of heating like ducted heating, portable heaters, and radiant heaters.
Let's get started!
What Is a Split System Air Conditioner?
Split systems are a form of air conditioning that offer climate control for a single room. These systems are made up of two units, which are "split" between the inside and outside of your home.
The indoor unit is usually mounted high on the wall, and the outdoor unit is positioned on the other side of that wall outside your home.
Do Split System ACs Work in Winter?
Not all split system air conditioners are designed with a heating and cooling mode. If you want a split system that works in winter, look for a reverse cycle split system (also known as a heat pump system).
So, how do reverse cycle air conditioners work?
In heating mode, they absorb heat energy from the air outside your property using a heat exchanger. This heat is then transferred inside your home. The condenser in your outdoor unit also heats the refrigerant, which further warms the air that has been absorbed from outside.
By the time it reaches your living room or bedroom, the air has been perfectly heated and filtered, allowing you to enjoy clean, warm, and comfortable indoor temperatures.
The process to cool your home using a split system is essentially the reverse of this. That's why heat pump units are referred to as reverse cycle air conditioners!
As well as split reverse cycle ACs, you can also get reverse cycle heating and cooling in a ducted unit.
So, Split Systems Work in Winter… But Are They Actually Effective?
Are you still a bit sceptical about using an air conditioner in Melbourne's winter months? Maybe you're considering installing split systems in Rowville but you're not sure if it's the right choice. Maybe you already have a split system in Mooroolbark but you want to use a conventional heater in winter, like ducted gas heating or electric heaters.
We understand that using an AC in the colder months sounds strange, and ultimately, how you choose to heat or cool your home is a personal choice.
However, you should know that a quality split AC is capable of producing very effective heat in winter, even when it's up against other heat sources.
Compared to a gas ducted heater, a split system will effectively heat your room without wasting energy heating up every other empty room. But if you need to heat the whole home, your traditional ducted system might be best.
When compared to other space heating methods like a gas log fire, split systems can be more efficient and effective, and they take away the need to work with gas. They're easier to install and take care of, but they lack the ambience and beauty of a gas log fire.
An option like hydronic heating is more difficult to compare because it uses heated water, rather than air, to warm up your home. In general, these radiant heaters are best suited to new build homes and they have much more complex installation requirements.
As you can see, there is no single best heating system for your needs, and individual preference will undoubtedly come into play.
But if you were wondering if a split air conditioner can compete with conventional gas and electric heaters, you'll be happy to know that it's up to the task. In terms of simplicity, efficiency, and effective heat output, it might be the best option out there, even on the coldest Melbourne days!
In the points below, we'll explore a few other benefits of split system air conditioners for heating in winter.
Energy Efficient
Energy efficiency is one of the most important factors to consider when selecting heating and cooling. Reverse cycle split systems are incredibly efficient heaters. They can achieve up to 600% efficiency in standard conditions and up to 1000% efficiency in mild conditions. In Melbourne, where the mercury rarely drops below zero, these systems can be incredibly efficient.
Split systems are energy efficient thanks to their heat pumps. Conventional gas and electric heaters generate their heat through processes like gas combustion. However, a heat pump allows your split system to absorb external heat rather than generate it directly, which reduces your overall energy usage!
Affordable to Run
An energy-efficient system is generally an affordable system. After all, the lower your energy consumption, the less energy you have to pay for, and the lower your power bills will be. The features of your split system and how you use it can also affect running costs, but generally, you can expect affordability from these units.
A split system also saves you money on upfront costs. With one system for both heating and cooling, you won't have to install and maintain separate heaters and coolers.
With heating and cooling accounting for up to 50% of all energy use, it's good to know that split system heating and cooling is affordable to run! Give your energy bills a break with a split system!
Whole-Home Heating with Multi Splits
The biggest downside of a split system is that they are only designed to heat or cool one room. Generally speaking, there are two ways around this.
You could install individual systems in as many rooms as you want. The only thing to remember is that every indoor unit requires an outdoor unit, so the exterior of your home could become cluttered.
Alternatively, you could consider multi-head split systems. This method allows you to install multiple indoor units (or head units) that are all connected to one outdoor unit. Each indoor unit can even be a different size and style to suit the room it is in. You could have a mini-split in the study and a larger hi-wall split system in the living room.
Talk to a professional about split system installation to see which option is best for you!
Individualised Temperature Control
Whether you opt for single split or multi-head split systems, you can enjoy individualised temperature control in each room. Every indoor unit can be set at the temperature that you prefer, which puts an end to constant arguments and thermostat wars!
If a unit isn't being used, simply leave it switched off for greater energy savings and cost savings.
In-Built Inverters
Most modern split systems will come with inverters, which will contribute to more efficient and comfortable heating with lower greenhouse gas emissions.
Essentially, an inverter allows your system to run at various speeds. A heater without an inverter will switch on, run at one speed, and switch off when the target temperature is reached.
A system with an inverter will switch on and gradually speed up to reach the target temperature. This provides more comfortable airflow and more efficient operation. You might think that an inverter will take longer to warm your room, but this isn't the case at all. In fact, the variable speed offered by an inverter is often the faster method!
As well as this, systems with an inverter won't need to constantly switch on and off. Once the target temperature is reached, the inverter simply alters its speed. If you change the thermostat or the temperature drops, the system can power up quicker, smoother, and more efficiently compared to a system that has switched itself off!
Healthy Air
Most heaters and coolers utilise air filters, but modern split systems take this a step further. They boast technologies and features that can eliminate odours, trap more airborne allergens and irritants, eliminate bacteria and viruses, and purify the air like never before.
Choose a split system if you want the healthiest air in the neighbourhood!
Easy to Install and Maintain
A split system consists of the two units as well as some wiring and piping to connect them. There's no need for ductwork or other complicated components.
With the help of a professional, you can install a split system in just a few hours, and maintenance is just as easy. Simply keep an eye on the filters, clean the exterior of the units, and arrange professional servicing every few years.
How Can I Get the Most Out of My Split System Heating in Winter?
Just like any other system, there are certain steps you can take to ensure your split system heating is operating at its best.
Here are 5 tips for effective split system heating in winter.
1. Clean Your Filters
Cleaning and replacing your filters is the best thing you can do to take care of your split system.
Clean filters mean clean air and less chance that you will react to airborne irritants. Dirty filters can cause your split system to work harder, resulting in higher energy use and higher electricity bills, but worse heating performance.
Filters should be checked every few months during peak periods of use. You can clean or replace air filters yourself, and they will also be looked at during your professional split system service.
2. Set the Right Temperature
In winter, your split system should be set between 18°C and 21°C. This temperature range is generally the best for comfort, energy efficiency, and heating costs. The higher you set your thermostat, the greater your costs will be, so act wisely.
When you first switch your system on, there is no benefit to setting a higher temperature. Just stick to that "goldilocks" temperature range for the greatest benefits.
3. Keep Doors and Windows Closed
As with all heaters, you should keep external doors and windows closed when using a split system. Because split ACs are designed to heat individual rooms, it can also be beneficial to close internal doors to seal off the room you are trying to heat up.
4. Arrange Split System Servicing and Repairs
Split system services should be carried out by a professional every 2-3 years. If your system is a bit older or it has experienced recurring issues, don't hesitate to book in sooner.
If your system is suddenly malfunctioning, you should schedule professional repairs. Ignoring a problem will only increase the likelihood of complete breakdown or other, more serious errors in the future. Don't sleep on split system repairs. Call a professional ASAP.
5. Consider an Upgrade
If you have an older split system, you're probably missing out on features that can add efficiency, affordability, eco-friendliness, and convenience to your system and your life. Your older split system might even be cooling-only, meaning it's impossible to use as a heater in winter!
Even if your system used to be top of the range, a combination of new technology and reduced performance over time could mean that your heating and cooling have fallen behind.
You can't completely turn back the clock on a 20-year-old system, but you can upgrade to a new split system that offers better year-round performance.
Choosing a New Split System in Melbourne with ACS
Many factors go into selecting a reverse cycle split system air conditioner. You don't necessarily want the cheapest or most expensive model, and equally, the smallest and largest options might not be best for you.
The experts at Australian Climate Systems can help you select the best option based on energy efficiency, the size of your room, and your heating and cooling preferences.
Our experts can walk you through all the additional features and options, such as sensors, sleep mode, adjustable louvres, air purification, inverter technology, and warranty options.
Together, we can expertly select and install the best split system for you, or we can help you select another type of heating and cooling.
Whether you want to service your split systems in Boronia or install new split systems in Lilydale, we are here for you. Contact us today on 03 9726 4444 or get in touch online.