12 Amazing Benefits of Hydronic Heating
July 21st, 2022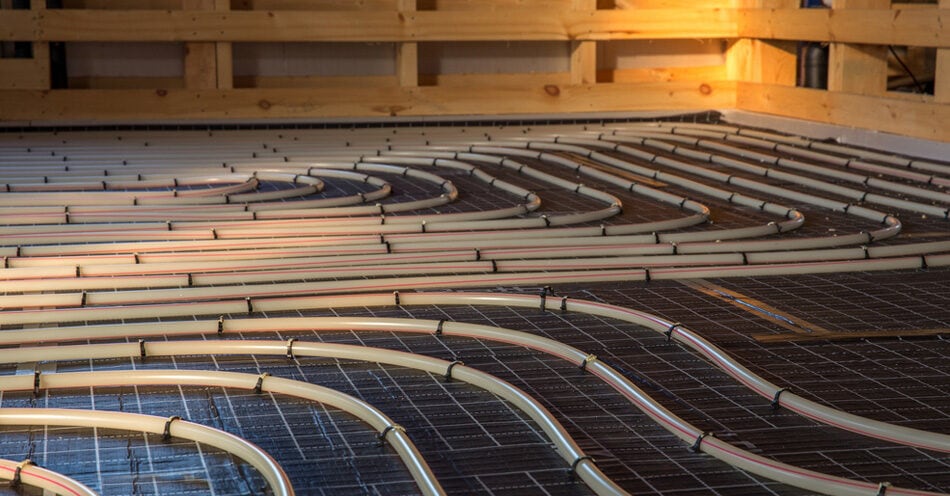 Hydronic heating is a popular choice for Australian homes and businesses, and for good reason. Hydronic heating systems utilise water to control where the heat goes. They're designed to produce highly effective and targeted heat that can be released exactly where you want it, from radiators to underfloor heating systems.
Read on to learn the key benefits of hydronic heating and to find out why this type of heating is regarded as one of the most efficient systems out there.
Hydronic Heating Explained in Just 6 Sentences!
Most heating systems use hot air to warm your property, but hydronic heating systems use hot water instead.
Heated water is transferred through pipes to warm up a range of surfaces, including radiator panels, flooring, and towel rails.
As well as heating surfaces, hydronic heating produces radiant heat that spreads throughout your property.
If your hydronic system includes trenches and grilles, it can even heat the air (although it won't push the air around like a traditional heater).
The hydronic boiler in your system can be powered by a range of fuel sources, including natural gas, LPG, electricity, solar energy, and even wood!
You can learn more about hydronic heating and how it works here.
You'll Love These 12 Hydronic Heating Benefits
1. Comfortable and Safe
Hydronic heating has special thermostats that regulate the temperature, so it remains constant, and the room heats up evenly. It's also sealed, with no exposed parts, electrical wires or electrical connections, which removes the risk of fire hazards. Unlike gas ducted heating or heat pump systems, there's no fan needed to blow around the air. This means there's less dust being pushed around, making hydronic systems a better option for asthma or allergy sufferers (we're looking at you, Melbourne hay fever sufferers).
If you're looking for a system with no ductwork and no forced-air operation, hydronic heating is the perfect choice. Reduce your allergy symptoms and prevent the spread of germs, viruses, allergens, dust, and pet dander with hydronic heating.
2. It's Also Safe to Touch
Hydronic heating warms up surfaces rather than the air, so you might be worried about accidental burns. You'll be happy to know that all hydronic products are safe to the touch, making them ideal for curious children and playful pets, as well as older family members.
The water in hydronic systems typically reaches about 65°C, which is hot enough to warm your property but not nearly hot enough to scorch your hands!
3. A Clean Heating System
There's a common misconception that forced-air central heating systems generate their own dirt. This isn't the case, but they do push around all the dirt, dust, and odours that are already present in your environment. Heaters are also prone to getting dirty, with their vents, grilles, louvres, filters, and more all accumulating dust.
Hydronic heating doesn't forcefully blow around air, meaning it doesn't disrupt and spread dirt. The vast majority of the system is also fully concealed, meaning you don't need to constantly clean dirty parts. Just keep the panels, rails, and other hydronic products clean like you would your furniture and knick-knacks.
4. A Quiet Heater For A Quiet Place
Heating and cooling products are getting quieter and less obtrusive every year. However, if you want the gold standard for acoustic comfort at home or in the workplace, a hydronic system is the perfect choice.
Hydronic heaters have a few big advantages that make them quieter than other space and central heating systems. There's no noise from expanding and contracting ductwork, no fans are spinning at high speed, and there's no air being blown around your space.
The main noise from a hydronic heater is the sound of a boiler, which is no different to when you use your hot water.
Do you want a whisper-quiet heater? Try hydronic heating for your home in Ringwood or get hydronic heating for your business in Glen Waverley. You won't regret it!
5. Easy to Manage
One of the best features of having a hydronic heating system is its easy-to-manage design. With a custom-designed hydronic set-up, you can cover a range of needs, which will also reduce your installation costs. One system can accommodate many different heat emitters, and it can also be enough to supply your domestic hot water. Hydronic heating can be set up for space heating, whole-home coverage, and a range of other specialty loads.
Find out how easy heating and hot water can be with a custom-designed hydronic system.
6. Hydronic Heating Offers Energy Efficiency
The best hydronic heating systems will far outstrip most other systems in terms of energy efficiency. There are a few reasons for this:
Water is a better conductor of heat than air, meaning it can heat up faster and stay hot for longer
Hydronic heating systems are fully sealed, meaning there is less opportunity for heat loss
The force of an air-based heating system can direct heat through gaps in the wall and outside your property. Hydronic systems do not have this problem!
7. Saves on Electricity Bills
As a more energy-efficient heating system, a hydronic heater will also be more cost-effective, saving you a lot of money on your heating bills. While hydronic systems are often more expensive up front, they are ultimately a worthwhile investment in the long run due to the reduced running costs.
Generally speaking, larger homes with higher ceilings will enjoy even greater savings!
8. Put An End To Horrible Humidity
With certain forced air systems, humidity can be a big problem. Whether it's due to misuse, malfunction, or another reason, these systems can increase or lower the humidity to uncomfortable temperatures. With forced air heating systems, it is most common that the hot air will lower the relative humidity, which can leave you feeling dry.
Hydronic heaters don't forcefully move around the air in your environment, meaning humidity is either unaffected or very easy to control.
9. More Heating Options Than Ever Before!
Did you know that hydronic heaters actually use all three forms of heating to warm up your home or business?
They heat objects by physically coming into contact with them (conduction heating), they can cause warm air to naturally rise (convection heating), and they can cause heat to radiate around your property (radiant heating).
Hydronic systems can be used to provide underfloor heating, heated towel rails, hydronic radiators, and more! If you're looking for a heater that does more than just blow hot air, look no further.
10. Stylish and Steady
When you think of old-school radiators, you probably picture an effective source of radiant heat that's also a bit of an eyesore. Traditional radiators are definitely on the ugly side, but the modern radiator panels that come with hydronic systems are completely different. These panels are sleek, discreet, and available in a range of styles. Of course, there are also accessories like towel warmers, which naturally belong in your bathroom, as well as underfloor heating, which is fully concealed and therefore invisible to the naked eye.
Hydronic heating systems are also incredibly consistent, boasting some of the most even and steady warmth from any commercial or residential heater. If you're sick of cold patches in your home – even when the heater is blowing – then consider making the switch to hydronic.
11. Versatility Is An Understatement!
With a wide range of options available, there's sure to be a hydronic system that suits your property!
To start with, you can choose from a range of fuels, from natural gas and LPG to electricity, solar, and even wood. Natural gas is the most common choice, but if your property isn't connected, you can still get hydronic!
The piping that's used for hydronic heating can be installed in the floor or the walls of your property, depending on what works best. You don't have to worry about vents, grilles, ductwork, indoor units, and many of the other components you typically need for another type of heating system.
We're not saying that hydronic heating installations are always easy. Hydronic installations are generally best for new constructions, especially if you want whole-of-home heating.
However, with so many installation options available, there's a good chance that you can install hydronic heating where you want it most. Looking for underfloor heating and heated towel rails in your bathroom? Maybe you just want radiator panels in part of your house?
Talk to Australian Climate Systems to see what you can achieve with hydronic heating.
12. Good for the Environment
Perhaps an overlooked aspect of choosing a hydronic heating system is how it benefits the environment compared to other forms of heating. It has minimal emissions as it is a natural way of heating, utilising water and your fuel of choice (such as gas or solar powered electricity). The closed systems also mean that the water is constantly being recycled, resulting in less water wastage.
Are You Ready to Upgrade to Hydronic Heating?
Hydronic heating might be the right choice when you're looking for an elegant and useful heating option to warm your home.
Whether you're looking for hydronic heating in Doncaster, Templestowe or beyond, Australian Climate Systems can help.
Contact Australian Climate Systems today for a quality hydronic heating system installation, as well as all the maintenance services and repairs that you need.