Should I Choose Wall-Mounted Air Conditioning or Floor-Standing Air Conditioning?
January 02nd, 2023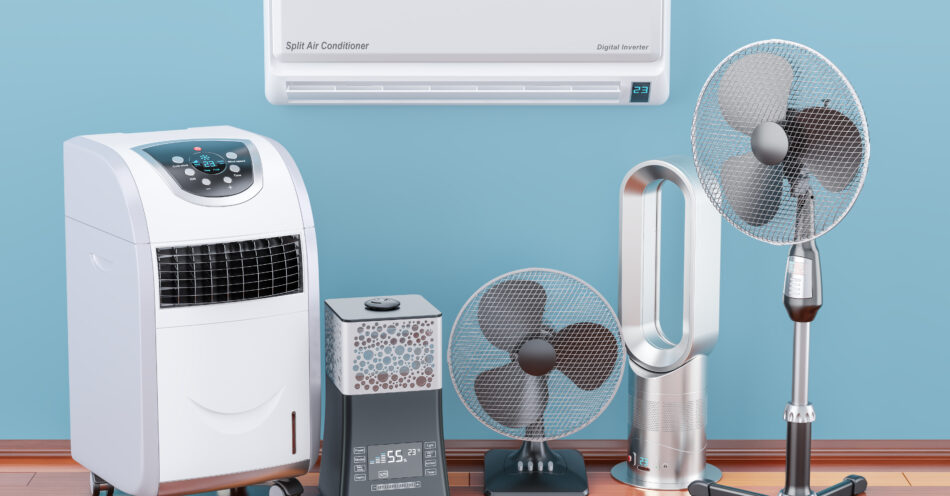 If you are considering new split systems in Melbourne, you might be torn between wall-mounted and floor-standing units. Both units have their pros and cons, and ultimately, it will be your preferences, property type, and heating and cooling requirements that determine which system you choose.
Wall-mounted split systems are what most people think of when they picture Australia's favourite type of air conditioning. But if you've been recommended a floor unit or you just want to be sure, this article has you covered.
Read on for everything you need to know about wall-mounted and floor-standing air conditioning, and all the advice you need to make your choice.
What Is a Floor-Standing Air Conditioner?
Floor-standing air conditioners are essentially a variation of the classic wall-mounted split system. While most split system installations involve mounting the indoor unit high on the wall – usually towards the ceiling – these floor-standing units are mounted low on the wall or on the floor itself. A corresponding outdoor unit is mounted low on an exterior wall or the ground.
Floor-standing air conditioning may also be referred to as floor-mounted air conditioning. There can be a difference between systems that stand on the floor and systems that are mounted on or near the floor, but for the most part, we will refer to them interchangeably in this article.
Floor-standing and wall-mounted units work in essentially the same way. Refrigerant travels between the outdoor unit and the indoor unit to produce cold air in cooling mode or hot air in heating mode. Floor-standing air conditioners are generally smaller than their wall-mounted counterparts, but they come with all the same standard features, such as compressors, heat exchangers, condenser coils, evaporators, inverters, filters, and fans.
You are more likely to find a floor-standing unit in a hotel, motel, or community hall than a family home, but there are circumstances where a floor unit would be suitable for a residential dwelling.
What's the Difference Between a Floor-Standing Air Conditioner and a Portable Air Conditioner?
While floor-standing air conditioning and floor-mounted air conditioning may be used interchangeably, there is a difference between these systems and portable air conditioners.
Portable air conditioning systems can stand on the floor, but they can also be moved in between rooms and set up virtually anywhere. However, you will typically need a nearby exhaust or ventilation point, such as a window, for most portable air conditioners.
In contrast to floor-mounted or wall-mounted split systems, portable ACs are generally much more energy-hungry and will only cool the immediate vicinity. Portable systems are also not capable of switching to heating mode.
If you desperately need any form of cooling on a hot summer day, portable air conditioners may be a suitable temporary or backup solution. But you should really invest in an energy-efficient split or ducted heating and cooling system in the long term.
What Is a Wall-Mounted Air Conditioner?
Wall-mounted air conditioners make up the majority of what you will see when you're shopping for split systems in Blackburn and across Melbourne.
Just like floor-mounted systems, these systems have indoor and outdoor units. The indoor unit (or head unit) is mounted high on the wall and the corresponding outdoor unit is in a similar position on the exterior wall.
Wall-mounted split systems also utilise refrigerant and a heat pump to produce hot and cold air for year-round climate control with low energy consumption. These energy-efficient units also feature evaporators, compressors, condenser coils, filters, fans, inverters, heat exchangers, and more. They are much more common in residential spaces compared to floor-standing systems.
While split systems are now synonymous with reverse cycle heating and cooling, it's important to note that both wall-mounted and floor-standing systems are also available as cooling-only air conditioners.
Why Should You Choose a Floor-Standing Air Conditioner over a Wall Unit?
The main difference between wall-mounted and floor-mounted split systems is the location of the indoor unit, and there are several reasons you may prefer one over the other.
Floor-standing split systems are often preferred when:
You Lack Wall Space
If your walls are already filled up with artwork, family portraits, bookcases, TVs, and other home decor, you may not have space for a wall-mounted air conditioner. If you can't part with your wall art, a floor-standing system may be the way to go.
You Have a Low-Angled Ceiling
If the room you're looking to add heating and cooling to has a low-angled ceiling, it may not be possible to install wall-mounted air conditioning, but a unit closer to the floor may be suitable.
You Have Floor-to-Ceiling Windows or Other Installation Problems
Properties with floor-to-ceiling windows or large windows on the walls might be prohibited from installing wall-mounted split systems.
As well as wall space, low-angled ceilings, and the presence of large windows, there may also be other reasons why you can't or don't want to opt for wall-mounted units. For example, certain residential property types are limited in where they can install split systems.
As well as floor-standing systems, there may be other HVAC alternatives if it is impossible or impractical to install a standard split system.
You Prefer the Appearance
For some homeowners, choosing a floor-standing split system may just come down to preference. Wall-mounted air conditioners are located high on the wall, usually in the centre of the room, so they're hard to miss. Floor-standing systems aren't exactly aesthetically pleasing, but they're often smaller and not usually at eye level. They allow you to keep your walls clear, and semi-recessed options may also be available.
You Like the Accessibility
If you're looking for convenience when it comes to cleaning, a floor-mounted system may be ideal. Because these systems are close to the floor, they're easier to wipe down and maintain, especially for people with mobility issues.
However, when it comes to controlling each system, you will just use the remote control for both wall-mounted split systems and floor-standing units.
You Want to Heat Your Home – Especially with High Ceilings
Hot air naturally rises, so if you want to use a reverse cycle split system for its heating mode, it might make sense to install a floor-mounted unit.
The warm air from these systems is dispersed at ground level where everyone is gathered, meaning it will warm you up sooner. On the other hand, a wall-mounted system might take longer to warm up the room, as the system is located higher on the wall and the hot air will rise. For this reason, floor-mounted systems are often preferred in homes with high ceilings.
However, modern wall-mounted split system air conditioners have a range of tricks to overcome this, from the position of the louvres to intelligent sensors from the Coanda Airflow Technology present in Daikin wall-mounted split systems. This Coanda technology creates a rapid circulatory flow of air that quickly moves across the ceiling, down the wall, across the floor, and back up the other wall. This circulatory air motion actually ensures faster results and a more even temperature distribution while maintaining low energy consumption.
You Have An Unused Fireplace
If you have an older property with an unused fireplace, this could be the perfect position for your new floor-standing split system! Many people choose to fill the space by installing a recessed floor-mounted AC. You get heating and cooling in one unit, and you get to fix the problem of your unused fireplace.
Floor-standing units are associated with better heating, so it just makes sense that they'd offer the perfect solution for your unused fireplace!
If you're looking for another option to replace an old fireplace, consider installing a compatible gas log fire where your old wood fire used to be.
Why Would You Choose a Wall-Mounted Air Conditioner Over a Floor Unit?
We've made the argument for floor-standing split systems, but there are reasons why the wall-mounted variety is so much more common.
So, here are just a few reasons why you should stick with a wall-mounted air conditioner.
You Lack Floor Space
While wall space can be a problem for traditional split systems, you are much more likely to be lacking in floor space. Between couches, ottomans, recliners, coffee tables, TV cabinets, and toy boxes, you probably don't have room for something else on the floor. A floor-mounted air conditioner would just be an unnecessary addition.
While wall-mounted split systems are visually prominent, they're usually high on the wall and not taking up space that you would otherwise be using! It's much easier to move one picture frame rather than all your furniture.
You Have a Small Home
If you have a larger home, you can always clear floor space to make room for a floor-mounted unit (if you really have to!) But if you have a small home, a floor unit will always be an inconvenience, even if there's nothing else on the floor.
In a smaller space, you will always see the floor unit because it's taking up a significant chunk of the room, and you're more likely to bump into it too! And you can't really decorate around it to lessen its aesthetic impact because you're already short on space.
So, if you need to have an indoor air conditioning unit and you have limited space, wouldn't you rather have it high on the wall where you can't trip over it, and it isn't taking up useful space?! Better yet, people often install wall-mounted split systems above their couches or beds, so once you're sitting or lying down, you can't even see it!
You Are Worried about Slow Performance
Floor-mounted split systems may provide more instant comfort by offering heating and cooling at ground level. However, the average floor-standing system is smaller than the average wall-mounted split system, which means it can take the system longer to reach the desired temperature across the whole room.
In a large enough room, any split system will struggle – whether it's wall-mounted or floor-mounted. However, wall-mounted split systems are definitely better equipped to provide climate control in larger spaces.
You Love Cleanliness and Hate Clutter
We've already talked about how floor-mounted systems create more annoying clutter than wall-mounted systems. Most people will take an extra element on the wall than the floor every day of the week!
When it comes to cleanliness, wall-mounted split systems may be harder to access – and that's definitely a point for floor units. However, once you access your wall-mounted AC, it's relatively easy to wipe down thanks to its flat, smooth surfaces. Wall-mounted split systems also feature easily removable panels and air filters that are easy to clean.
You Are Concerned about Air Circulation At Ground Level
When it comes to heating and cooling, physical barriers are the enemy of good air circulation. Just picture a couch sitting on your ductwork and you will have a good idea of what we mean! A similar thing can happen with split systems.
Because wall-mounted units are located high on the wall, they're far less likely to be impeded by physical barriers. Very few items are tall enough to block the flow of air, and any blockages would probably be very obvious when setting up your room.
Because floor-mounted units are much closer to the ground, they're more likely to be impeded by the end of the couch, the leg of your coffee table, or even a vacuum cleaner or playset that has been left out.
This is another way that floor-standing units take away space. They take up room at ground level and they also limit where you can place other items around your room.
For efficient heating and cooling without having to compromise your entire space, consider wall-mounted split systems in Templestowe and the surrounds.
Are Floor-Standing Air Conditioners More Affordable?
Not really. When comparing similar wall-mounted and floor-mounted systems, you can expect to pay the same upfront costs as well as similar running costs. Both units function in the same way with the same energy efficiency, so you won't see much of a difference in your electricity bills one way or the other.
A floor-mounted system may be cheaper to install in some cases, but overall, the costs will be very similar.
Are Floor-Standing Air Conditioners More Or Less Powerful Than Other Systems?
As with all air conditioning systems, you can purchase more powerful and less powerful floor-standing split systems. Generally speaking, these units tend to lean towards the more compact and less powerful side of things compared to wall-mounted units, as they need to prioritise taking up less floor space.
Wall-mounted and floor-mounted split systems both tend to be less powerful than central heating and cooling options like ducted refrigerated cooling systems. As well as being more powerful, central units are also designed to offer whole-home heating and cooling, while split systems are designed to heat or cool only the room they are located in (known as space heating and cooling).
When it comes to power and performance, check out the heating and cooling capacity listed on each model, usually expressed in kWh (kilowatt-hour). Split system capacity ranges from about 2.5kWh to more than 7kWh, with the most powerful units capable of providing climate control in medium to large rooms but not overly large spaces. As well as the capacity range, it's also worth checking the energy label to determine how efficient your system will be.
Do Floor-Standing Units Require Professional Installation?
Are you wondering how a floor-standing air conditioner is installed? Just like their wall-mounted counterparts, these split system air conditioners must be installed by a professional.
Connecting the indoor unit to the outdoor unit is far less involved than a ducted installation, but it is both illegal and inadvisable to install a floor-mounted split system yourself. DIY installation will breach your warranty and put the longevity, energy efficiency, and effectiveness of the system at risk. It could even see you tied up in insurance complications if anything ever goes wrong.
If you're looking to install split systems in Box Hill or the surrounds, turn to Australian Climate Systems.
Find the Best Type of Air Conditioner with Melbourne's Masters of Heating and Cooling
If you're still unsure about all the different types of air conditioners, look no further than Australian Climate Systems. From split systems to ducted heating and cooling units, we can recommend and install a new AC for you. As well as new installations, Australian Climate Systems offers split system repairs and services to keep your heating and cooling running at its best.
Australian Climate Systems is a Daikin Specialist Dealer, and we also work with a range of other brands. To discover the best system for your home and your lifestyle, contact our team today.