Why Should You Get Your Evaporative Cooler Serviced Every 2 Years?
October 14th, 2022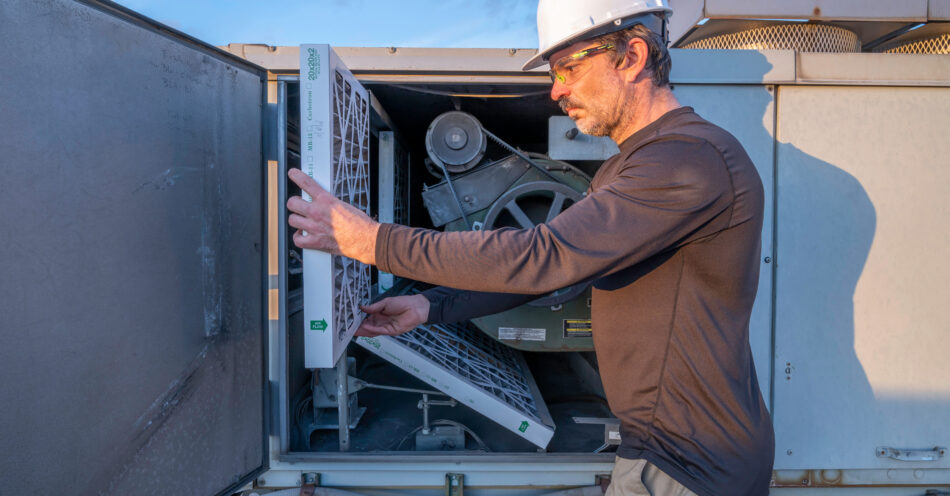 Evaporative cooling is one of the cleanest, most efficient ways to keep your home cool and comfortable. To ensure your cooler is always operating at its best, it's important to invest in regularly scheduled servicing.
Some technicians may recommend annual servicing, while others simply ask you to follow manufacturer instructions. At Australian Climate Systems, we strongly recommend servicing your evaporative cooler every 2-3 years.
But why are regular evaporative cooling services important? Here are just a few benefits of regular servicing for your evaporative cooler:
Reduced breakdowns and less need for urgent repairs
Less energy consumed and fewer greenhouse gases emitted
A longer-lasting cooling unit that doesn't need to be replaced prematurely
Fresher air and more consistent cooling performance
Peace of mind for you and your family
Read on for more information about servicing your evaporative cooler. We'll cover the benefits of regular servicing, the problems that a cooler service can solve, the cost of evaporative cooling services and repairs, and much more.
What Is Evaporative Cooling?
Evaporative cooling produces naturally cooled air to help you beat the summer heat. Unlike other air conditioning systems, you can keep your doors and windows open when using your evaporative cooler. In fact, it's basically a requirement, because evaporative coolers continually cycle new air into your home from the outdoors.
Evaporative coolers work by taking in warm air from outdoors and running it over water-soaked cooling pads, which naturally lowers the temperature of the air. The cooled air is then circulated throughout the home, creating a refreshing breeze.
Evaporative coolers are more affordable, energy-efficient, and environmentally friendly than other air conditioners, such as refrigerated coolers. The trade-off is reduced cooling performance compared to other systems, especially in humid conditions. However, during hot, dry summer days, which are most common in Melbourne, evaporative cooling will generally be a great option.
At Australian Climate Systems, we are experts in evaporative cooling in Melbourne. With 25+ years in the business, we understand that regular servicing is crucial for your evaporative cooler.
Why Do Evaporative Cooling Systems Need to Be Serviced?
Evaporative coolers are no different to other air conditioners, heaters, or even the family car. All these systems are made up of mechanical components that will wear over time. To prevent your evaporative cooler from breaking down, it needs to be examined and serviced regularly. Scheduled maintenance allows you to identify and resolve problems quickly before they become more expensive and disruptive.
It's also important to service your evaporative cooling system because of its location. Evaporative coolers are located outdoors, usually on the roof. This means they are more likely to get clogged up with dust, debris, leaf litter, pollen, and other contaminants. Over time, these blockages will result in reduced efficiency and even potential safety issues, including house fires. To ensure that your evaporative cooler is safe and operating at peak efficiency, arrange servicing every 2-3 years.
Benefits of Evaporative Cooling Services Every 2 Years
Keeps the Outside of Your Unit Clean
Maintaining the exterior of your air conditioning unit has many benefits. First and foremost, it ensures that your cooling unit continues to look great and doesn't ruin the visual appeal of your home.
As well as this, caring for the outside of your unit can improve your evaporative cooler's functionality. Maintaining the exterior of your system helps to avoid rust and ensures nearby trees aren't damaging the unit.
By having your evaporative cooler serviced every 2-3 years, you can ensure that the outside of your system looks great and isn't putting your home's cooling at risk.
Keeps the Air Fresh and Healthy By Maintaining Cooling Pads
One of the best things about evaporative coolers is the fresh, clean air that they produce. However, if your cooling pads are left unmaintained, this fresh air could be put at risk!
Over time, your cooling pads and filter pads will be exposed to debris such as dirt, dust, insects, and leaf litter, to name just a few contaminants. All the air that passes through your evaporative cooler comes into contact with the cooling pads, so dirtier cooling pads mean dirtier air. This can result in strange smells or even allergic reactions to your evaporative cooler.
Regular evaporative cooler maintenance will ensure your cooling pads are inspected and replaced when necessary. This prevents dirty cooling pads and ensures the air in your home is always at its freshest.
Do you have evaporative cooling in Lilydale or the surrounds? Australian Climate Systems can service your cooler and prevent the unpleasant consequences that come with dirty cooling pads!
Prevents Allergies and Odours from the Water Tank
Allergies and odours don't just come from dirty cooling pads or filters. They can also be caused by dirty water tanks.
As part of your scheduled evaporative cooling service, our heating and cooling technicians can inspect and clean your evaporative cooling water tank. This ensures that the water used in your cooler is as fresh as possible, avoiding bad smells and allergic reactions caused by an unmaintained water tank.
Stale water can also affect the performance of your evaporative cooler, so you should arrange regular servicing for both your health and the health of your system!
Maintains the Pump and Ensures Water Keeps Flowing
The water pump in your evaporative cooler ensures that enough water is getting to the cooling pads. If enough water isn't pumped onto the cooling pads, they won't be wet enough to cool down the air, resulting in significantly reduced performance!
You don't want to turn your cooler on only to find that it barely works. To avoid this, schedule a service every two years or so. A trained technician can check the water levels and ensure both the pump and impeller are moving freely. This will ensure your cooling pads get wet enough and you can beat the heat on a summer day!
Avoids Leaks and Potential Water Damage
Evaporative coolers rely on water, so a malfunctioning system could result in more than just inefficient air conditioning. To avoid water damage, you should have your system checked for leaks periodically.
When you book an evaporative cooling service, a qualified technician can check common problem areas for leaks. They will look at the float valve, dump valve, drain valve, and solenoid valve, as well as the water line. The technician can identify wear and tear around O-ring seals and complete any necessary repairs.
Need help with a leaking evaporative cooling system in Vermont or Ringwood? Australian Climate Systems can provide the maintenance and repairs you need!
Ensures Your Fan Is Working At Its Best
The fan on your evaporative cooler is used to draw warm air into the system. The fan can run at different speeds depending on the mode you select, with faster fan speeds resulting in more cool air throughout your property.
To keep your fan working at its best, regular servicing is the way to go. Our experienced technicians can ensure your fan is working effectively in all modes and help you avoid complete fan breakdowns!
Maintains Airflow for Uninterrupted Summer Comfort
As well as inspecting the fan, a technician can take other steps to ensure your airflow is never interrupted during those hot summer months! Evaporative cooling maintenance may also include an inspection of your ductwork and your outlets, as well as a test of all the functions and modes on your evaporative cooler.
By dotting every I and crossing every T, our team ensures that your system always runs at its best!
Problems That Can Be Solved By Evaporative Cooling Services and Repairs
Rising electricity bills
Rising water bills
Water leaks and blockages
Water running down your roof
Build-up of debris or mould
System damage
Increased allergic reactions to your evaporative cooler
Smells from your evaporative cooler
Overly noisy evaporative cooling
Lack of airflow
Evaporative cooler controller problems
And much more!
When to Get Your Evaporative Cooler Serviced?
You should have your evaporative cooler serviced every 2-3 years, but what's the best time of year to service your system?
You might think the answer is summer, but we recommend booking your service in spring. This allows you to have your system taken care of before the hot weather hits, and it means you can avoid the waiting times associated with peak servicing season!
As well as scheduled servicing, you should also arrange evaporative cooling repairs on a needs-basis.
What Is the Cost of Evaporative Cooling Services and Repairs?
The cost of evaporative cooling maintenance and repairs will depend on a range of factors. You might need simple system maintenance, or you might require additional repairs and replacement parts. If more work needs doing and more parts need replacing, your service will become more and more expensive. If your cooler completely breaks down, you might be in for a costly repair bill, or you may even be better off installing a new air conditioner!
By scheduling system maintenance every 2-3 years, you can avoid expensive services and complete breakdowns. The more often you have your evaporative cooler looked at, the less likely you are to need extra expensive repairs. Air conditioner maintenance every few years is likely to cost you just a few hundred dollars each time, and it will add years of life to your cooler!
Do you want to save money on your evaporative cooling in Doncaster, Templestowe, or the surrounds? Arrange regular evaporative cooling maintenance with the team at Australian Climate Systems.
DIY Evaporative Cooling Services Aren't Enough!
When it comes to DIY evaporative cooling services, there's not really much you can do. We recommend keeping an eye on your evaporative cooler and calling a professional if you notice leaks, smells, performance issues, or other common evaporative cooler problems.
Beyond this, it's worth leaving the inspections and services to the professionals. DIY evaporative cooling repairs can cause warranty and insurance headaches, and if you're not sure what you're doing, you could make the problem worse or put yourself and your family at risk.
Call Australian Climate Systems – Melbourne's Evaporative Cooling Experts
When it comes to regular evaporative cooling services, you can rely on Australian Climate Systems. We work with all major brands, so whether you need Bonaire evaporative cooling services or Brivis evaporative cooling repair, we have you covered.
For healthier, safer, cheaper, and longer-lasting cooling, get in touch with our team today. Call 03 9726 4444 for evaporative cooling maintenance and repairs.