Why Should You Consider Split System Heating and Cooling?
March 28th, 2022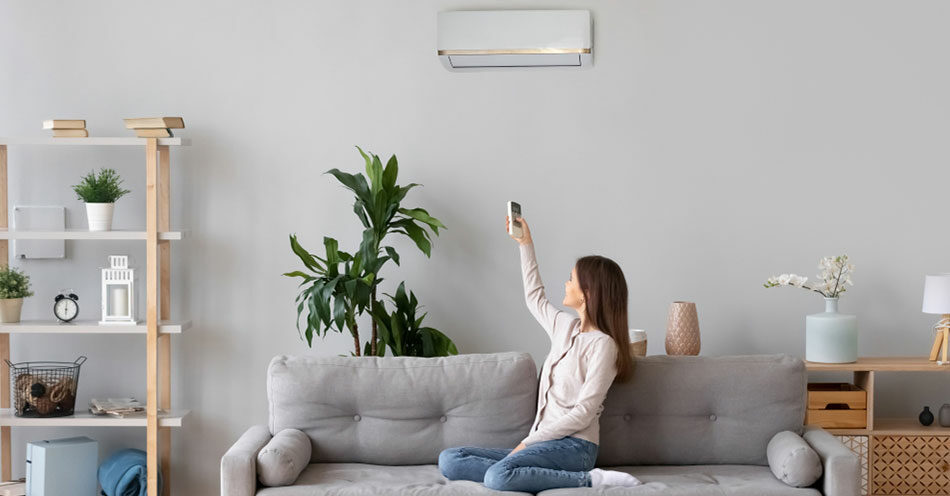 Do you want an efficient, effective, attractive, and eco-friendly method to heat and cool your home? To stay warm in Melbourne's winter and cool in summer, split system air conditioning could be perfect for you.
Read on to learn all about split system heating and cooling, including how it works, how much it costs, and the many benefits of installing a split system air conditioner!
What Is a Split System?
Heating and cooling systems are divided into two broad categories. There are central heating and cooling systems like ducted heating, and there are space heaters and coolers, which are designed to heat or cool a single area.
Split system air conditioning is the gold standard for heating and cooling a single space. The installation is simple, the operation is energy-efficient, and the results are unbeatable!
Split systems get their name because the system contains two units that are split between the indoors and the outdoors. The indoor unit, sometimes called the head unit, contains the fan and the coil. This unit is usually installed high on the wall for a sleek appearance.
The outdoor unit consists of the condenser and compressor. It is located near the indoor unit on the outside of your home; either neatly on the floor against a wall or discreetly mounted to the wall itself.
If you have a window air conditioner or a portable heater, a split system is the perfect upgrade for you. If you want an alternative to a ducted system, a split system air conditioner also has you covered. By installing multiple indoor units, you can enjoy heating and cooling throughout your home!
Installing a split system in Melbourne gives you year-round comfort. Even if you're experiencing Melbourne's infamous four seasons in one day, a split system can set a consistent indoor temperature that suits you.
How Does a Split System Cool the Home?
On the hottest summer day, your split system will be up to the task! To cool your space, the split system will take in heat from the indoor air and transfer it to the outdoor unit using refrigerant gas.
The condenser and compressor work together to expel the heat, cool the refrigerant, and pump cool air back into your home. The indoor unit then distributes the precisely cooled air evenly and effectively. The process then repeats to help your home reach and maintain the target temperature.
All of this happens in minutes with just a few button-presses from you!
Heating and Cooling in One! Reverse Cycle Split System Air Conditioning!
While you can get a cooling-only split system, our heating and cooling experts will always highly recommend a reverse cycle split system.
Reverse cycle split systems offer both heating and cooling, and these models are often more efficient coolers than cooling-only models. On top of this, you get a built-in heater that leads the way for affordable, energy-efficient heating solutions.
In heating mode, split systems simply reverse the process explained above. The system takes in heat from the outdoor air, the refrigerant is compressed and warmed up, and warm air is pumped back into your home via the indoor unit. It may not feel like it, but there is enough heat energy in the air on a cold Melbourne day to effectively heat your room.
Whether you're looking for split systems in Dandenong for hot summer days or split systems in Croydon for cool winter nights, you are guaranteed complete comfort with a reverse cycle system.
Multi-Head Split Systems – the Whole Home Heating and Cooling Option
Opting for split system air conditioning means foregoing a central heating option, but it doesn't necessarily mean you have to sacrifice whole-home coverage.
You can install split system units in any room where you have the ability to place an indoor head unit and a nearby outdoor unit. Of course, installing an outdoor unit for every room in the home is a quick way to clutter up your outdoors and ruin your visual aesthetic. That's where multi-head split systems come in.
A multi-head split system air conditioner involves running multiple indoor units from a single outdoor unit. This allows you to enjoy heating and cooling in the bedrooms, living room, and beyond, all without having to worry about multiple outdoor units.
With a multi-split system setup, you can customise the indoor units in every room, meaning you can select a system that suits the size, style, and layout of the space. It's even possible to match lower capacity indoor units with a higher capacity outdoor unit. Doing this allows you to get more out of each individual indoor unit, especially when you're running them one at a time.
There is no limit to how many indoor units you can use at one time or what temperature each of them is set at. Multi-head systems are designed for all possible configurations, and running one unit, multiple units, or all the units should not affect your energy efficiency.
Let's Talk Split System Installation!
Split system heating and cooling will need to be professionally installed, but this is more of a benefit than a drawback. A heating and cooling professional can help you select the right system and choose the best position in each room. The installation is not nearly as involved as something like a ducted heating installation, so you won't have to worry about significant disruptions or excessive labour costs.
Your installer will help you find the perfect position for the indoor and outdoor units and then mount them as necessary. The indoor and outdoor components are connected using electrical wiring and high-pressure gas pipes. Generally, a small hole is all that's required to complete the connection.
Single-phase power is generally all you will need for both single and multi-split systems. If you have a high-capacity multi-split set-up, three-phase power may be required, although this is generally reserved for commercial systems.
Split System Installation Tips
i. The longest wall in the room is typically the best place to install your indoor units
ii. Avoid placing indoor units above a window wherever possible
iii. Keeping your outdoor system away from direct sunlight will increase its lifespan and effectiveness
iv. Positioning the indoor unit and outdoor unit within a few metres of each other is preferred
v. Your split system installer will walk you through the best options for every room of your home!
10 Advantages of Split System Heating and Cooling
Whether you opt for a single split system or a multi-head set-up, there are many benefits that you can enjoy, including:
1. Sleek Design on the Inside and Out
When compared to a window unit or a portable system, the indoor component of your split system will be sleek, attractive, and space-saving. There are many designs to choose from, and most head units can be placed high on the wall, so they don't clash with your interior design. As mentioned above, you can even select different indoor units to suit each room.
When it comes to the outdoor unit, modern split systems are compact, neat, and discreet. With a multi-head option, you won't have to worry about multiple outdoor units cluttering up your home.
2. They Heat in Winter and Cool in Summer
Reverse cycle air conditioners can keep you comfortable whatever the weather outside. We've already explained reverse cycle air conditioning, so we won't go into much more detail here.
Said simply, split systems are an all-in-one heating and cooling solution, and they're extremely efficient in both regards. You pay for the supply and installation of one system, and you get all the benefits of a heater and an air conditioner!
3. Complete Control in Every Room
Every split system you have is individually controlled, meaning family fights over heating and cooling can finally come to an end! You can set different temperatures in bedrooms, living rooms, study areas, and beyond. You can even have different head units in each of these spaces!
4. Affordable and Energy Efficient Operation
Reverse cycle split systems utilise heat pump technology to heat and cool your home. This means they transfer hot or cold air from one place to another, rather than having to generate it all themselves. This makes them an excellent option in terms of running costs and electricity consumption. These systems can generate at least three times the heating and cooling results for every one kilowatt of electricity consumed.
Modern split system air conditioners also utilise inverter technology, which allows them to power up gradually yet effectively. Whether you're heating or cooling, an inverter will provide a comfortable stream of air without huge fluctuations in power consumption and running costs.
Finally, split systems are electrically powered, meaning they are compatible with solar power for even greater cost and energy savings.
Of course, not all systems are made equally, and you should consult with an expert to find an energy-efficient system that will lower your electricity cost. To find the cheapest option, looking at energy star ratings is usually a great place to start! The upfront cost of a split system may be higher than other units, but it will make up for this with affordable performance in the long term.
5. Environmentally Friendly
Improvements in energy consumption and running costs usually come hand-in-hand with eco-friendly operation. Split systems are no different.
Reduced electricity use means less reliance on fossil fuels and fewer greenhouse gases generated. This performance is dramatically improved when paired with solar systems.
The refrigerants present in a split system air conditioner are not good for the environment, but the latest R32 refrigerant is the most eco-friendly yet, with the lowest GWP (Global Warming Potential) of all refrigerants.
If an eco-friendly split system is important to you, ask your supplier and installer to help you select the best option. Once again, looking at the energy rating is a great place to start.
6. Easy To Use and Simple to Care For
With built-in thermostats and remote controls, setting the temperature on your split system is simple. Simply select heating or cooling mode and use the remote to achieve your desired temperature. Other modes may include fan-only or eco modes. Wall-mounted controls are also available with some systems.
Cleaning the filters in your split system is easy, and sometimes, you can even do this yourself. A professional split system service should be carried out every 2-3 years, and this will generally be affordable and straightforward. The separate indoor and outdoor units and ease of access make this process painless for everyone involved.
Apart from that, all you need to do is look out for rare system malfunctions. To keep your repair costs low, arrange split system repairs as soon as you notice a problem.
7. A System That Can Grow with You
When you first move into your home, you might decide that you need one split system in the living room and one in the bedroom. With only two people in the house, installing extra units isn't necessary.
If your family grows as the years go by, your heating and cooling can grow with you. You can add extra units to kids' bedrooms, playrooms, and more, either by installing single split systems or investing in a multi-head split system.
8. Split Systems Also Act As Air Purifiers
When it comes to heating and cooling, clean air is good air. Modern split systems have more than just ordinary air filters. Many of them come with advanced air purifying systems!
These air purifiers can remove indoor pollutants and allergens from the air, which is great for airborne allergy sufferers and those with hay fever and asthma. Other air purifying features that your split system may have include odour neutralisers and the ability to remove viruses and bacteria from the environment!
Some even decompose odours and absorb and deactivate bacteria and viruses.
9. No More Noisy Heaters and Coolers!
Traditional space heaters and coolers like window ACs or portable electric heaters can be really noisy, but split systems don't have this problem. This is because the noisiest part of the system is located outdoors behind a wall! These outdoor units tend to make some noise but because they're outdoors, you can barely hear them. Modern split systems are quieter with every iteration, so upgrading to a new split system will provide even quieter operation and improved comfort in every sense of the word.
10. Split Systems Come from the Best Brands on the Market!
Split systems are one of the most popular types of air conditioning, which means you can get solutions from all the biggest names in heating and cooling.
Try the super-efficient 7-star split system from Daikin or the CHOICE award-winning systems from LG. The latest Panasonic systems offer advanced air purification technology, and Rinnai reverse cycle air conditioners are built with the latest inverter technology.
With all the big players developing new split systems, it's easy to find a product with features that suit you, from powerful dehumidification to super-fast heating and cooling!
Are You Looking for Split System Heating and Cooling?
Now that you know all about split system heating and cooling, you can decide if it's the right solution for you. As Melbourne's heating and cooling experts, Australian Climate Systems is here to help you every step of the way.
Whether you're looking for a single split system in Ringwood or a multi-split system in Boronia, we can guide you from system recommendations to installation, servicing and repairs.
Reach out to us today for all the guidance, support, and split system services that you need!