4 Reasons To Ditch Your Portable Vacuum For A Ducted System
October 25th, 2017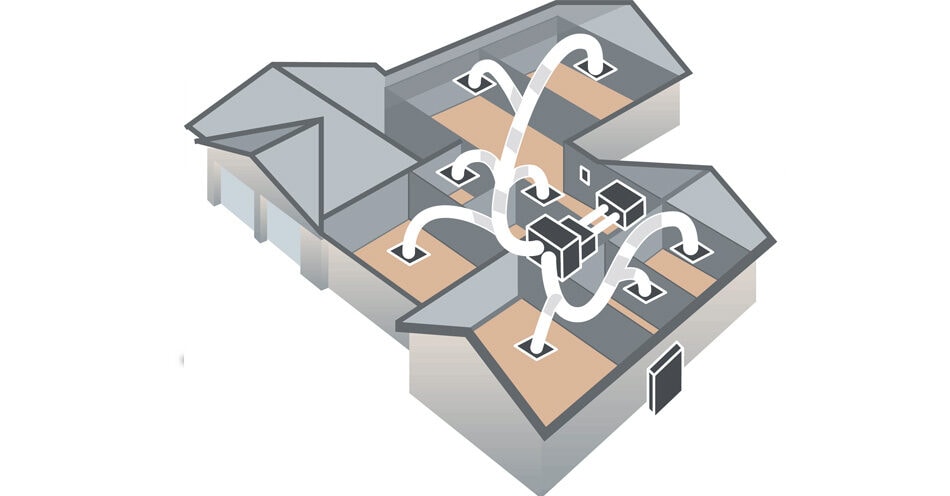 Getting your place spotless is not an easy task. Whether your home or office has hardwood floors or thick carpets, vacuuming is an unavoidable chore.
On the surface, portable vacuums are already a quick and easy way to get rid of dirt and debris. However, it can be a nuisance dragging along the unit up and down stairs. Trying to move around furniture with a portable vacuum can make your home feel a bit like a maze.
A ducted system is a semi-permanent fixture fitted behind your walls. Throughout your home, you'll be able to plug in a vacuum attachment. No matter where you are you can clean comfortably without worrying about bringing an external unit with you.
Considering an alternative way to clean your home? If you're thinking of ditching your portable cleaner here's 4 reasons why you should install ducted vacuums in your home or office:
1. Simple Yet Versatile
The idea of installing a whole vacuuming system into your property can seem like a complicated task. But ducted systems are just as easy to use as a portable vacuum. Despite the lack of a movable unit, ducted systems are actually able to clean your home more efficiently. Its internal motor can be accessed throughout the whole house, so every inch is covered. Plug in and clean right away with a ducted vacuum system.
2. Quiet Cleaning
Vacuuming can be such a loud task. Excess noise comes from the unit as well as having to move the portable machine around. Because the ducted vacuum motor and fan is usually located in a garage, you'll be able to clean in silence. Say goodbye to those loud, droning noises of your portable vacuum and enjoy cleaning in peace with a ducted vacuum system.
3. Powerful Cleaning
Even after hours of vacuuming, stubborn debris tends to linger afterwards. With ducted vacuum cleaning you'll be able to get rid of all the dust, pet dander, mites, and particles. Unlike portable units, ducted vacuums' powerful motors can get deep into the carpets. Using a ducted vacuum system means you don't have to re-vacuum or re-sweep to ensure a thorough clean of your space.
4. Allergen Friendly
Another downside to portable vacuums' lack of deep cleaning is that its filtering system isn't as powerful as ducted vacuums. This means portable units end up spreading harmful allergens. A ducted system's filtering mechanism exhausts all these unwanted particles to an outside location, leaving your home fresh. Using a ducted vacuum system will give your occupants a cleaner air environment.
Want to have a ducted vacuum installed in your home or office? Get in touch with Australian Climate Systems today. Our friendly consultants will help you with all your ducted vacuum installation and maintenance needs.
Call us now on (03) 9726 4444 for more information on our range of ducted vacuums.