Best Extra Features & Tech for Your Heating and Cooling
April 26th, 2022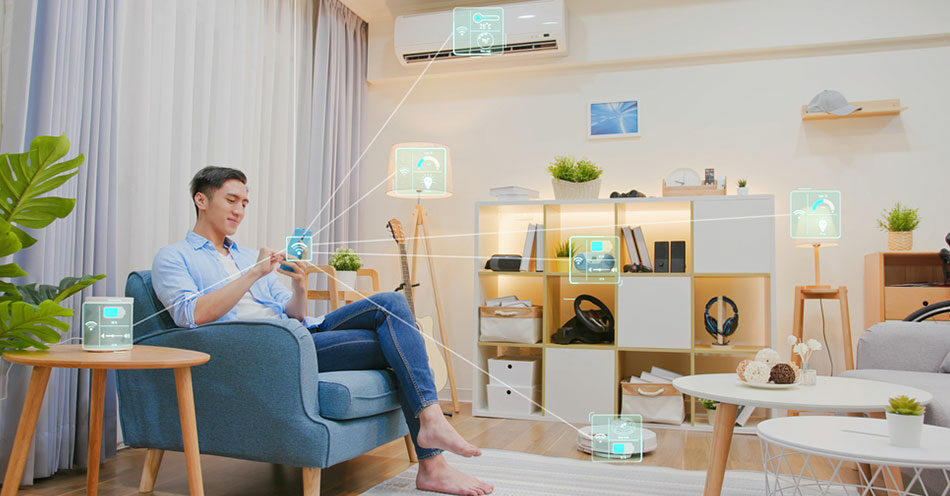 Modern heaters and coolers are packed with top-of-the-line features that offer increased affordability, energy efficiency, comfort, and convenience. Today's HVAC technology can also help you take care of your unit and increase the lifespan of your system.
So, which extra features and technology should you look for in your new heating and cooling system? Read on to find out the best features and tech you need according to Melbourne's heating and cooling experts!
If you're looking for advanced heating and cooling in Blackburn, Templestowe, or the surrounds, simply chat to the Australian Climate System's team today.
Timers
If your heating and cooling system only has an on/off function, you're missing out on a range of benefits. Timers can save you money, reduce your energy consumption, and provide convenience and peace of mind.
Timers are a useful backup if you forget to manually switch off your system. Set your system to switch off an hour after getting into bed or just after you leave for work. This way, you'll never have to worry about forgetting to switch off your unit.
The best timers can be programmed to switch on and switch off at certain times. This allows you to preheat or pre-cool your space before you get home, providing optimal comfort.
Overall, you can't go wrong with a timer. While there are peripheral timers available, many modern heaters and coolers come with built-in timer functionality.
Sensors
Sensors are similar to timers. They make your heating and cooling more energy-efficient, affordable, and convenient by utilising the latest technology.
For example, Daikin's latest split systems feature the Intelligent Eye Human Sensor. This sensor detects when people are in the room and when the room is empty. The system switches into energy-saving mode when the room is empty and provides extra comfort when the room is occupied.
Some whole-home units even have sensors in the remote control. Activating a "Follow Me" feature will provide precise heating and cooling that follows you around the home!
Zoning
Zoning allows you to split your home into different sections that can all be controlled separately. Some systems let you set up 10 or more zones, all of which can have different temperature and airflow settings.
One of the biggest advantages of zoning is the ability to switch on heating and cooling in certain parts of your home. If certain rooms aren't being used, you can save money and energy by leaving those zones switched off.
Programmable Thermostats
Programmable thermostats are sometimes known as smart thermostats. Basic thermostats allow you to turn your system on, set a target temperature, and turn your system off. Smart thermostats go beyond basic functions and allow you to use many of the features mentioned in this article.
Programmable thermostats are often equipped with timers, zoning controls, diagnostic information, learning technology, and more. Smart thermostats can also interface with smart devices to make your life even easier.
Wi-Fi Controls
These days, just about everything can be controlled through your mobile phone, including your heating and cooling. Through Wi-Fi connectivity, you can control your heater or cooler whether you're on the couch, in the office, or on the train home. As long as you have an internet connection, you have the power.
Wi-Fi controls are more than just a gimmick or a luxury. Through Wi-Fi connectivity, you can preheat or pre-cool your home, control zones and timers, switch your system on or off, activate cleaning modes, and much more.
Wi-Fi Controls allow your programmable thermostat to travel with you everywhere. They're a great investment for your gas ducted heating or refrigerated air conditioning.
Many heaters and coolers can also interface with Smart Assistants such as Amazon Alexa or Google Assistant, giving you voice-controlled heating in winter and cooling in summer.
Reverse Cycle Technology
Reverse cycle air conditioners allow you to heat and cool your home using the one system. You can get split system reverse cycle air conditioning as well as ducted reverse cycle systems.
If you want combined heating and cooling, this is truly the only way to do it! The next best thing would be add-on air conditioning. This allows you to add a cooling function to compatible gas ducted heaters, meaning you can use the same ducts for both heating and cooling.
Inverter Technology
Inverter technology allows your heating and cooling system to power up and power down gradually. This results in fewer energy fluctuations and more cost-effective climate control.
Inverter systems heat or cool your home quicker and they offer more consistent airflow and temperature, resulting in greater comfort for you and your family.
Eco-Friendly Refrigerant
Are you shopping for refrigerated cooling, reverse cycle system air conditioning, or split systems? Look for a unit that utilises R32 refrigerant. While refrigerants are inherently bad for the environment, R32 is the best of the bunch.
R32 refrigerant has a lower Global Warming Potential (GWP), and it also results in more efficient heating and cooling.
Smart Louvre Design
On split system heaters and coolers, louvres are the blades that distribute air throughout the room. At the very least, you want louvres that are designed to move vertically and horizontally so they can effectively heat or cool the entire space.
Some systems will take this to another level, such as the latest Daikin units, which offer Coanda Airflow Technology. This technology uses louvres to create a circulatory air motion. This results in even air distribution, rapid heating and cooling, and improved comfort levels.
LG systems have a feature called Comfort Air, which sets your louvres to a position that ensures air isn't blowing directly at people in the room. If you get annoyed by air blowing on your face, this solution is perfect for you.
Humidification and Dehumidification
If you hate heaters and coolers that leave you feeling clammy or dry, then you need a system with humidification and dehumidification.
Built-in humidifiers add moisture to the air to combat dry skin and sore throats, while intelligent dehumidifiers reduce humidity when conditions are getting too clammy.
Advanced Filters and Filtration Technology
Pretty much all heaters and coolers filter out dust and other nasty particles, but some filtration systems are better than others.
If you want the best filtration on the market, invest in a system that is compatible with HEPA filters. You can also look for heaters and coolers that offer technology-driven filtration.
For example, Panasonic offers systems that can inhibit bacteria, viruses, pollen, pet dander, and other major allergens. This market-leading Air Sterilisation technology is known as nanoe™ X, and it's just one of the ways you can create a fresher home through heating and cooling.
Self-Diagnosis
If you're having a problem with your heating and cooling, the first thing you'll want to do is troubleshoot the issue yourself. Many modern systems are equipped with smart diagnosis technology that helps you do just this.
These systems can also provide power-saving suggestions based on your energy usage, helping to lower running costs and improve energy efficiency.
Self-Cleaning
Self-cleaning functionality doesn't replace heating and cooling services, but it can help to improve performance, enhance hygiene, and extend your system's lifespan.
Many heating and cooling units run automatic cleaning cycles every time the system is turned on or off. Other systems have cleaning protocols that you can activate manually, such as end-of-season cleaning.
Certain self-cleaning functions will only apply to specific systems. For example, evaporative cooling units can have self-cleaning water pumps that clear blockages and reduce the need for manual maintenance.
Eco-Mode and Turbo Mode
You want your heating and cooling system to match your lifestyle and your requirements. That's where functions like Eco Mode and Turbo Mode come in!
Eco Mode might also be known as power saving, economy, or something similar. Basically, it optimises your system to prioritise energy efficiency, resulting in lower running costs.
On the other hand, Turbo Mode can give your system an extra boost when you want to heat or cool your home fast.
Automatic De-Icing
In most locations across Australia, automatic de-icing won't be a priority. However, if you live in a particularly cold area, automatic de-icing can be useful to avoid frost build-up on the outdoor unit.
Sleep Mode
Heating and cooling systems can be notoriously noisy when they're operating at full throttle. By activating your unit's sleep mode, you can ensure a comfortable sleeping temperature while also reducing the noise coming from your system.
Sleep mode will often mimic natural ambient temperatures for greater overnight comfort. It gradually lowers the temperature for the first few hours, maintains a steady temperature for the majority of the night, and switches off before you wake up.
Many heaters and coolers also offer noise reduction features that operate independently of sleep mode. These features reduce excess noise all day and night, meaning you never have to strain your ears to hear over your system.
Auto-Restart Function
Do you wish your system would remember your settings every time you turn it on? Auto-restart functionality does just this! With auto-restart, you won't need to waste time reprogramming your system, even if it switches off due to a power outage.
Water Management Systems
Evaporative cooling systems often come with in-built water management. These systems allow your cooler to purify and clean the water it is using, which helps to reduce wastage and improve system performance.
UV Protection and Winter Seals
Most heating and cooling systems are comprised of indoor units and outdoor units. While your indoor units are protected from the weather, your outdoor unit is exposed to the elements 24 hours a day. Protecting your outdoor unit is essential if you want your system to last for years while enjoying excellent performance in the long term.
Outdoor units with a UV-protected casing and a winter seal will go a long way to protecting your system. UV protection helps your outdoor unit to resist extreme heat in summer. Sealing your system prevents heat escape in winter and ensures draughts don't enter your home. An outdoor unit that is sealed against draughts will also be quieter, resulting in lower noise levels both inside and outside the home.
Ask Our Team about the Best Heating and Cooling Features in Melbourne!
If you're looking for heating and cooling in Ringwood, Dandenong, or the surrounds, Australian Climate Systems is the team for you! Our experts can recommend and install a system with all the smart features you're looking for. Whether you're looking for Wi-Fi control, self-cleaning technology, or eco-friendly refrigerants, we can advise you.
To keep your system at its best, we also specialise in comprehensive heating and cooling repair and maintenance services.
Heating and cooling technologies are getting better all the time, resulting in improved energy efficiency, lower energy bills, increased convenience, and premium comfort. To ensure you're getting the best, talk to our team about new installations, system upgrades, or HVAC servicing today.