Heating and Cooling Considerations When Buying a Home
May 02nd, 2022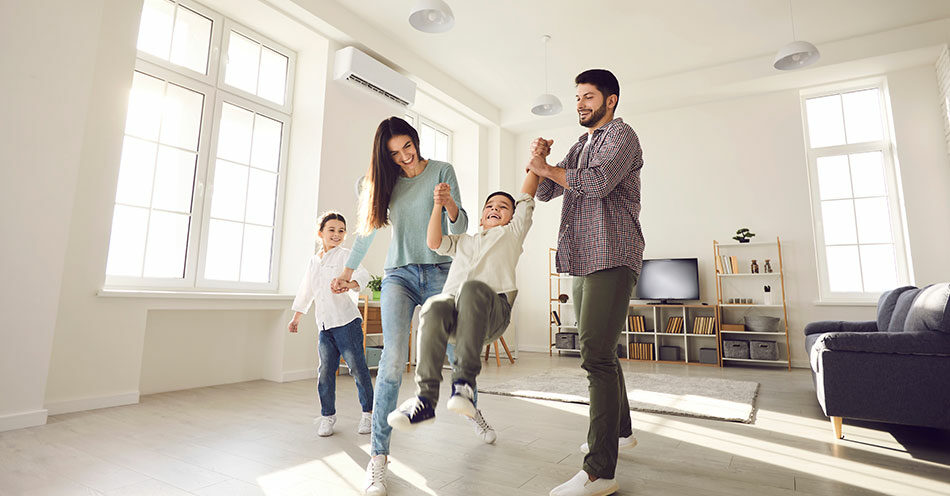 There's nothing quite like shopping for a new home. It can be equally exciting, stressful, and emotional, which can become incredibly overwhelming! It's easy to get swept up in the viewings or bogged down in the numbers, but it's important to focus on the details.
Heating and cooling are responsible for keeping us comfortable all year round. As well as this, climate control accounts for up to 50% of your energy consumption, meaning it will contribute significantly to your household energy bills.
Before you commit to buying a home, you need to understand what type of heating and cooling is available, what condition it is in, and what this means for you.
Homeownership is the most significant financial commitment most of us will make in a lifetime. To make sure your investment is a wise one, remember these heating and cooling considerations when shopping for a new home.
Does the Home Have Heating, Cooling, or a Combination of Both?
When it comes to HVAC systems, you need to know whether you're getting heating, cooling, or both. It's not always obvious at first glance, so be sure to ask the real estate agent for clarification. They should know – and if they don't – they should be able to find out.
Some heating systems to look for include gas ducted heating, hydronic heating, and gas log fires.
Cooling systems include evaporative cooling, refrigerated air conditioning, and split systems.
Some systems, like ducted reverse cycle air conditioners, offer both heating and cooling. Many split system air conditioners are reverse cycle, but others are cooling only, and this isn't always obvious at first glance. To find out, you can look for stickers or labels. You can also try to access a heating mode on the remote, or you can ask the agent for more information.
Another option for combined heating and cooling is gas ducted heating with add-on refrigerated air conditioning. These systems use the same ductwork as your gas heater, but they will have a separate outdoor unit. If a gas ducted heater doesn't have add-on cooling, you can note down the model and find out if it is compatible.
Of course, the home you're looking at might also have separately installed heating and cooling systems that operate completely independently. Some older homes may not even have a proper cooling system, relying solely on a ceiling fan or portable coolers.
Another thing to consider is gas vs electric. Your new heating system may be gas-powered (e.g. gas log fires, gas ducted heating) or an electric heater (e.g. split systems, reverse cycle heating, space heating). Air conditioning systems will always be electrically powered but these systems still differ in many ways. You can learn more about gas vs electric heating and cooling here.
Central Heating and Cooling vs Space Heating and Cooling
Central heating and cooling systems are usually ducted. These systems run throughout your entire house for whole-home heating and cooling.
Space heaters are designed to heat a single room. If large parts of your home will be empty most of the time, space heating might be suitable for you.
Split systems are the most popular form of space heating and cooling. You can easily identify these systems as they are split into two separate units. The indoor unit is usually mounted high on the wall while the corresponding outdoor unit is wall-mounted or floor-mounted near an external wall. Some homes will have a central system that is complemented by split systems, gas log fires, or other space heaters and coolers in certain rooms.
Once you've determined the exact nature of the heating and cooling in a home, you can make an informed decision on whether it's right for you.
Find Out How Old the Heating and Cooling Is
As appliances age, they become less reliable and less efficient. The average heating and cooling system will last between 15 and 25 years depending on the level of care it receives. As a general rule, if a system looks visibly aged or is more than 10 years old, you should ask a professional to have a closer look before you buy a home.
To determine the approximate age of a system, simply take note of the brand and model number at the viewing.
Ask About Service and Maintenance History
Thorough heating and cooling services will increase the longevity and efficiency of your system. Always ask for evidence of HVAC servicing such as receipts and maintenance records. This will tell you how regularly the heating and cooling has been serviced and the last time it was attended to.
Evidence of heating and cooling repairs can also give you an insight into any problems a system has experienced in the past.
Is It Oversized or Undersized?
If your heating and cooling units are oversized or undersized, you have a problem. Oversized units will expend a lot of unnecessary energy and waste a lot of money. Undersized units will work overtime to heat or cool your home, which will also result in higher energy costs.
It can be difficult to tell if heating and cooling is incorrectly sized at first glance. If you can, have a professional look over the heating and cooling before you commit to a new home. This may seem like a trivial issue but having all the facts can save you a lot of money and hassle in the long term.
How Energy Efficient Is the Heating and Cooling?
Most heating and cooling units will display an energy star rating. The more stars a system has, the more energy efficient it should be. Beyond the energy label, you should also consider the age of the system, how well it has been cared for, and whether it is correctly sized when determining the energy efficiency.
When it comes to heating and cooling, reverse cycle heat pump systems are considered the gold standard and can achieve up to 600% energy efficiency!
For Refrigerated Systems, Find Out About Refrigerant
If eco-friendly heating and cooling is a priority, you might want to research the refrigerant in the cooling system. R32 refrigerant has the lowest Global Warming Potential (GWP) of all refrigerants on the market, and most systems today will utilise R32.
For Ducted Systems, Look Into the Condition and Configuration of the Ductwork
If you're serious about buying a house, you might want to arrange for a HVAC professional to take a closer look at the ducts. The condition and configuration of your ductwork can play a large role in the efficiency and performance of your heating and cooling. If you can coordinate a HVAC inspection with the seller and a professional, it will definitely be worthwhile.
Check Out the Indoor and Outdoor Units
If you like the look of a home on your first inspection, take a closer look at the indoor and outdoor units on a subsequent visit. Look for signs of damage, evidence of leaks and drips, and a build-up of dust on the indoor units. This will give you an insight into how well the system is cared for as well as potential hidden problems.
You should look for all these things on the outdoor unit too. Also search for evidence of rust and take note of where the outdoor unit is located. Make sure the outdoor unit is not too close to windows or doors and see if the connection to the home looks stable and secure.
Wall and floor-mounted units will be easier to inspect than units on the roof. You may want to arrange a professional inspection if you're concerned about roof-mounted units.
Find Out the Orientation of the Home
The orientation of your property will play a large role in passive heating and cooling. This is especially true if the property has solar panels, or you want to invest in solar-powered heating and cooling in the future.
In general, north-facing homes are best for passive heating. Homes that face slightly northwest or northeast will also be great for taking advantage of Australia's natural sunshine.
As well as the orientation of the home, take a look at nearby houses and other buildings that may block your access to natural sunlight.
Look into Insulation Levels
Effective insulation will make your heating and cooling more efficient and affordable, so don't forget this part of the equation. Independent building inspections can help you determine the quality and quantity of insulation in a home.
Don't Be Afraid to Test the Heating and Cooling!
Last but certainly not least, it's important to take the heating and cooling for a test drive. When you're inspecting a home, turn on the heating and cooling and see how effective it is. Pay attention to how quickly it heats and cools your home and listen for any loud noises or obvious issues. Test out every function to make sure they're all working normally.
If you have concerns, a pre-purchase HVAC inspection is definitely the way to go.
Want to Replace the Heating and Cooling? Do Your Research First!
If you're unhappy with the heating and cooling in your dream home, this isn't necessarily a deal-breaker. However, it's important to do your research and determine the costs and workmanship involved in an upgrade. For example, changing your outdoor unit is a much simpler task than installing a ducted system from scratch.
A heating and cooling professional can help you understand exactly what you're in for when replacing or upgrading a HVAC system. They can also recommend alternative solutions that might suit your needs. For example, it may be worth retaining the existing heating and cooling and complementing it with a series of multi-split systems.
Get Ready for Your Next Inspection
Buying a new home in Melbourne is hard enough without having to think about the heating and cooling. With this guide on your side, it's easier than ever to make an informed decision.
If you need help with new installations, maintenance, and repairs, turn to Melbourne's heating and cooling experts. Whether you're looking to buy, or you've just moved in, Australian Climate Systems can assist you. With more than 25 years of experience, our heating and cooling professionals are here to help.