Ducted heating changeovers: Infrastructure Remodeling
March 16th, 2020
Ducted heating changeovers are very popular throughout Melbourne this time of year, as people make the last ditch effort to get a working heating system before the winter really kicks in. Apart from a new, reliable system, and the benefits that come with new technology, a ducted heating changeover presents plenty of other benefits, too. Little aspects, such as a more presentable unit, less connections, and a more compact system all combine together in this regard.
Recently, we changed over an old unit for a new Brivis Buffalo 5 Star system in Vermont South in what was a very big operation. Due to general wear and tear over time, not only was the unit on its last legs, but so too was the sitting slab underneath. Of the most concern, however, was the visible age of the gas connection to the heater from the home, as well as the way that it protruded in an odd manner.
On the left, you can see the age of the slab has finally caught up to it, as well as sinking into the soil. The gas connection is the one that is looping from underneath, and whilst it has done the job properly since it was installed, connecting pipes have advanced since those early days. On the right is the best view of the changes that we made to both the slab and the connection; modernised, new, stable, and overall looking much more tidier than before.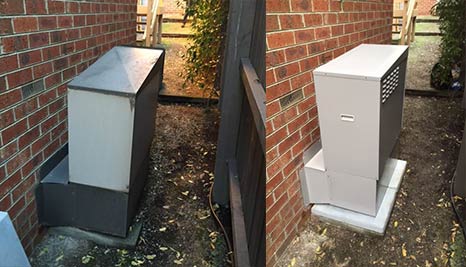 Here we can see another angle of the wear and tear inflicted on the sitting slab, as well as the highly bulky feed-in into the home. The new feed-in, as you can see, is much smaller, as too is the entire unit. This angle of the slab shows the levelling of the existing slab, tied in with the new concrete to reinforce it for the foreseeable future. This is also a great angle to appreciate how tidier the new generation of ducted heating systems are.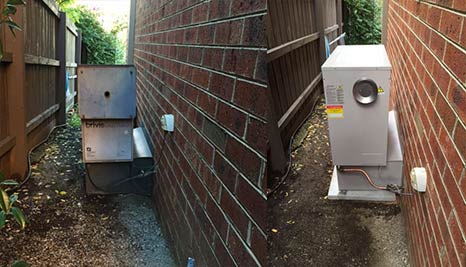 All in all, changeovers don't just deliver better efficiency and more natural gas heat, they can be a huge improvement in other areas, too. We've been providing hassle-free ducted heating changeovers for many years, and can do the same for you, too. Give us a call today on (03) 9726 4444, and ask us how we can help you get your hands on a great new ducted heating system.