Ducted Heating Changeovers and Infrastructure Remodelling: A Case Study
March 18th, 2022
Ducted heating changeovers are very popular throughout Melbourne at this time of year. As the cold weather slowly starts to set in, people make the last ditch effort to get their heating system working again.
If you want to get your ducted heater working again before winter really kicks in, ducted heating changeovers could be ideal for you. Apart from a new, reliable system, and the benefits that come with new technology, a ducted heating changeover presents plenty of other benefits. Little aspects, such as a more presentable unit, fewer connections, and a more compact system all combine to make this a highly worthwhile service.
Instead of just talking about the benefits, we're going to explain how ducted heating changeovers and infrastructure remodels can help you by using a real-world case study. If you want fast, quality heating from your ducted gas heater, this case study could present the perfect solution for you!
A Complete Transformation: Ducted Heating Changeover in Vermont South!
We recently changed over a ducted heating unit in Vermont South in what was a very big operation. The new changeover unit that we installed was a top-of-the-line Brivis Buffalo 5 Star system.
Due to general wear and tear over time, the old unit was on its last legs, and so was the slab sitting underneath it. Of the most concern, however, was the visible age of the gas connection to the heater from the home, as well as the way that it protruded in an odd manner.
On the left in the image below, you can see that the age of the slab has finally caught up to it. The slab is discoloured and sinking into the soil, which is not good for the heating unit either. The gas connection on the older unit is one that loops from underneath. While the job was done properly when it was first installed, connecting pipes have advanced since those early days.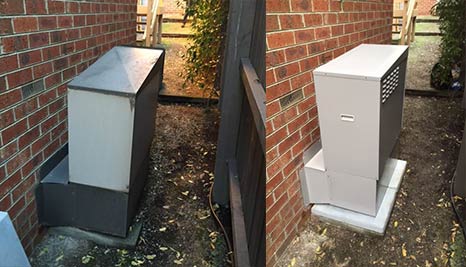 The image on the right shows a great view of the changes that we made to both the slab and the connection. It's modernised, new, stable, and overall looking much tidier than before.
Changeover Heating Systems Are a Great Chance to Modernise Your Connection!
In the image below, you can see another angle of the wear and tear inflicted on both the slab and the ducted gas heating unit. This angle also shows the highly bulky feed-in connection that attaches the gas heating to the home. 
As you can see on the right, the new feed-in is much smaller, as is the entire unit. This angle of the slab shows the levelling of the existing slab, tied in with the new concrete to reinforce it for the foreseeable future. This image also shows off just how tidy the new generation of ducted gas heating systems are.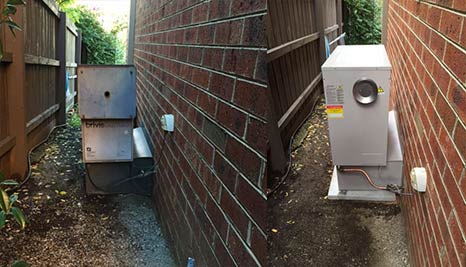 All in all, changeovers don't just deliver better efficiency and more natural gas heat; they can be a huge improvement in other areas, too. We've been providing hassle-free ducted heating changeovers for many years and can do the same for you. Whether you're having problems with your ducted heating in Vermont or you want to upgrade your ducted heating in Templestowe, Australian Climate Systems can assist.
7 Fast Benefits of Gas Heating Replacement/Changeover Services
1. Improve and simplify your connection for a more modern appearance and a more stable feed-in.
2. Enhance the aesthetics of your property by removing your current heating unit and installing a smaller sleeker one.
3. Get more value for your heating dollar and reduce your gas bills with a more energy-efficient heating unit.
4. Enjoy improved thermal comfort with a gas ducted heater that actually works. Get effective heating installed by our heating system experts!
5. Ducted gas heater replacement will result in fewer breakdowns, less need for repairs, and lower energy bills.
6. With greater energy efficiency, your new system will also be better for the environment.
7. A modern, high-efficiency heater will be quieter, meaning you don't need to worry about an overly noisy system!
When to Choose Ducted Heating Changeovers Instead of Servicing, Repairs, and Replacement Parts
Regular servicing and targeted repairs are extremely important in reducing your gas and electricity bills, increasing the lifespan of your system, and increasing the value of your heating dollar.
However, the time might come when ducted heating services and ducted heating repairs just aren't enough. A trusted heating and cooling technician can advise you when it's time to invest in a ducted heating changeover.
In general, the age of your system, its star rating, and frequent problems can all be signs that it's time for a ducted heating changeover. While it can seem expensive upfront compared to repairs, you could actually save hundreds of dollars, or even thousands, by installing more modern models.
To reduce your running costs with high-efficiency models, enquire about a ducted heating changeover with our team. We can give you a ballpark figure on how much a changeover will cost, as well as providing a comprehensive quote once you've selected the system and we've visited your property.
Ducted Heating Changeover FAQs
Q: How long will my gas heater last?
A: Your system can last up to 20 years with proper care, after which it might be time for a ducted heating replacement.
Q: Do I need to replace my ductwork too?
A: The changeover process is relatively simple. It involves replacing the gas heater and can usually get your ducted system up and running. A full ducted heating replacement can involve upgrading your ductwork. A heating & cooling technician can advise if this is the right step for you.
Q: Where can I learn more about ducted gas heating changeovers?
A: We wrote another comprehensive article recently, which also includes a case study! Read all about ducted heating replacement and upgrade services here or enquire with our team today.
Looking for Fast Ducted Heating Upgrades Before Winter?
As specialists in heating and cooling, Australian Climate Systems can provide you with a fast, affordable heating option. From Brivis Buffalo ducted heating changeovers in Blackburn to Bonaire ducted heating services in Lilydale, our team can assist you.
Give us a call today on (03) 9726 4444 and ask us how you can get your hands on a great new ducted heating system.