Heat & Cool Functionality: Reverse Cycle vs Split Systems
November 29th, 2022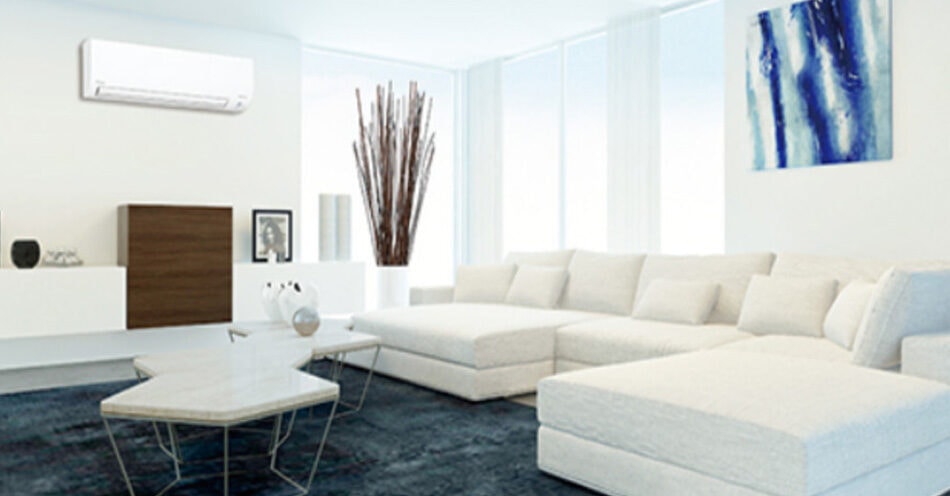 Our Aussie climate can be pretty unpredictable! Melbourne famously has 'four seasons in one day', which range from cold to hot, rainy to windy, and everything in between. With all sorts of weather conditions at all times of the year, it can be challenging to keep your home comfortable.
If you're looking for a worthwhile, affordable heating and cooling investment for your home, consider upgrading to a split AC. With reverse cycle split system air conditioners, you can heat or cool your home quickly, quietly, and easily. This type of air conditioner is popular among homeowners, and with options including Daikin Split Systems, there are many additional benefits you can enjoy.
In this article, we'll introduce you to split system air conditioning and reverse cycle systems, plus we will take a look at the extra benefits you can get with a modern split AC.
As the experts in split systems in Melbourne, our team can show you how to heat and cool your home all year round.
What Are Split Systems?
A split system is one of the most common air conditioner types. This popular type of AC is designed for a single room and consists of an outdoor unit located on or near an external wall. This is connected to a wall-mounted indoor unit via a series of pipes and wires.
The outdoor unit primarily houses the condenser and compressor, as well as fans, valves, and refrigerant. The indoor unit is where you can find the evaporator coils, louvres, and air filters. The refrigerant travels between the outdoor unit and the indoor unit during operation.
If you want to maintain the perfect temperature in the bedroom, living room, or home office, split systems could be perfect for you. Some people use split ACs in addition to central units, such as refrigerated cooling or gas heating, to provide extra climate control.
Split systems are easy and affordable to install, especially compared to ducted air conditioners and ducted heating!
What Are Reverse Cycle Systems?
Reverse cycle air conditioning systems offer refrigerated cooling and electric-powered heating in one unit. These systems use devices known as heat pumps, which can reverse the standard refrigeration cycle. This allows the refrigerant in your system to be used for both heating and cooling purposes. Simply switch between heating mode and cooling mode on your system.
Reverse cycle air conditioners are more energy efficient and affordable than conventional electrical and gas heaters. This is because conventional systems burn fuel to generate heat, while reverse cycle systems simply absorb heat from the air and add it to your home! This results in much lower energy consumption and also makes reverse cycle air conditioners more environmentally friendly.
Reverse cycle systems are so beneficial that low-income families can get $1000+ in Victorian Government Rebates when upgrading to reverse cycle heating and cooling.
Do Split Systems Heat and Cool?
Yes, reverse cycle air conditioners are available as split systems! They are commonly referred to as split system heating and cooling and they let you enjoy toasty warmth in the middle of winter and perfect chill in summer.
If you're looking for a whole home heating and cooling solution, you can also install reverse cycle ducted systems.
The reverse cycle functionality in split systems and ducted systems is basically identical. The main difference is central ducted heating and cooling (whole home) vs space heating and cooling (one room).
Are All Split Systems Heating and Cooling?
No, not all split systems offer both heating and cooling. This is important to remember when you're shopping for split systems in Doncaster, Dandenong, or across Melbourne.
Most modern split units are reverse cycle heaters and coolers, but some are cooling-only. It can be difficult to tell the difference at first glance, but when you take a look at the specs or ask a heating and cooling technician, you can quickly find out.
One great way to tell if your system is reverse cycle is to look at the energy rating label. If the system is rated for both heating and cooling performance, then you're looking at a reverse cycle system! And remember – the more stars your system has, the more efficient heating and cooling it offers!
Savings and Benefits with Reverse Cycle Split Systems
One of the biggest advantages of split systems is how economical they can be, both in terms of installation costs and annual running costs.
Split systems are usually cheaper than central units, portable electric heaters, or flued and unflued gas heaters. Plus, you're getting the dual functions of cooling and heating for one price! There's only one system to install and one system to maintain, rather than having to install and take care of separate heaters and air conditioners. When it comes to installation, you don't need to worry about roof space because there is no ductwork to install in the roof cavity.
Split systems are incredibly efficient when it comes to heat output vs energy consumption. They can generate three or more kW of heat energy or cool energy for every one kW of electrical energy consumed. Cutting-edge systems like the Daikin range have been specifically developed with energy efficiency and running costs in mind. For example, Daikin's inverter technology offers variable compressor speeds, which further increase energy efficiency while slashing your electricity costs and shrinking your power bills.
All this cooling and heating efficiency gives your system a smaller carbon footprint, meaning it's also better for the environment.
Choosing a split system also means cleaner air. These systems boast premium air filters and modern air purifying technology. While central heaters and coolers also offer great filtration, they circulate air through a series of ducts, which will inevitably get dirty and dusty. In a split system, the air has much less distance to travel, meaning the filtration and purification features can be even more effective. Additionally, these systems do not have the ventilation requirements that come with unflued gas heaters.
Finally, reverse cycle air conditioners are perfect for Melbourne weather. They offer effective heat output in temperatures lower than -10°C and refreshing cool air in temperatures higher than 40°C!
The Daikin Advantage: Introducing Daikin Split Systems!
Daikin is a world-renowned brand that continues to push boundaries with modern and innovative products. Their mission is to deliver 'comfort by design,' which is reflected in their commitment to cutting-edge design and engineering. Daikin systems are at the top of their class when it comes to effective and efficient heating and cooling.
Daikin reverse cycle systems meet the Australian Standards for quality management (ISO 9001) and environmentally friendly production processes (ISO 14001). When you choose Daikin, you know you are dealing with high-quality systems produced with the greatest care.
Some benefits of Daikin reverse cycle split systems include:
Use of R32 Refrigerant

, which has a lower Global Warming Potential than competing refrigerants

Coanda Airflow Technology

for rapid cooling and even temperature distribution

Intelligent Eye Sensor

, which automatically switches the unit into energy-saving mode when the room is unoccupied

Daikin's famous US7

for unbeatable energy consumption and energy savings. US7 is the first split system to be awarded a 7-star 'Super Efficiency' rating for heating and cooling

D-Mobile Wi-Fi control

for Daikin wall-mounted split systems

Daikin's powerful

6-layer Air Purifier,

which eliminates mould spores, bacteria, allergens, pollen, dust mites, odours, and other airborne particles

Whisper quiet heating and cooling at all fan speeds, with

operating sound levels as low as 16 dBA

(a soft whisper is generally considered to be about 40 dBA!)

Click here to learn more about why Daikin is considered the number one air conditioning brand.

How Many Years Will a Daikin Split System Last?

Your average split system will last for about 7 years, plus or minus a few years. A quality Daikin split system can last 15 years or more if it is properly cared for!

The key to extending the life of any heater or air conditioner is routine maintenance services and prompt AC repairs.

Click here for more tips on extending the life of your air conditioner.

Where to Buy Daikin Split Systems (With Prices!)

You can get a great deal on Daikin split systems from the team at Australian Climate Systems. We are Specialist Daikin Dealers and Melbourne's Masters of Heating and Cooling!

You can get a reverse cycle Daikin split system supplied and installed starting at $2299 RRP. Your new system will come with a 5-Year Parts and Labour Warranty and a 6-Year Workmanship Guarantee. Interest-free Buy Now Pay Later Options are available.

Check out our full range of Daikin specials now, including options for split systems and ducted air conditioning units. Our team is here to help you find the right system for the best price, so chat with our experts today.

Heat and Cool Your Home with Australian Climate Systems

For all things heating and cooling in Melbourne – from service to repair to installation – talk to Australian Climate Systems.

We're a locally owned and operated business, and while we love Daikin, we also offer a wide range of common air conditioner types, covering a variety of brands and products.

To discover the best ducted air conditioning systems and split systems in Blackburn, Box Hill and the surrounds, look no further! Call 03 9726 4444 to chat with our team today!