Troubleshooting Your Air Conditioning Unit
October 25th, 2022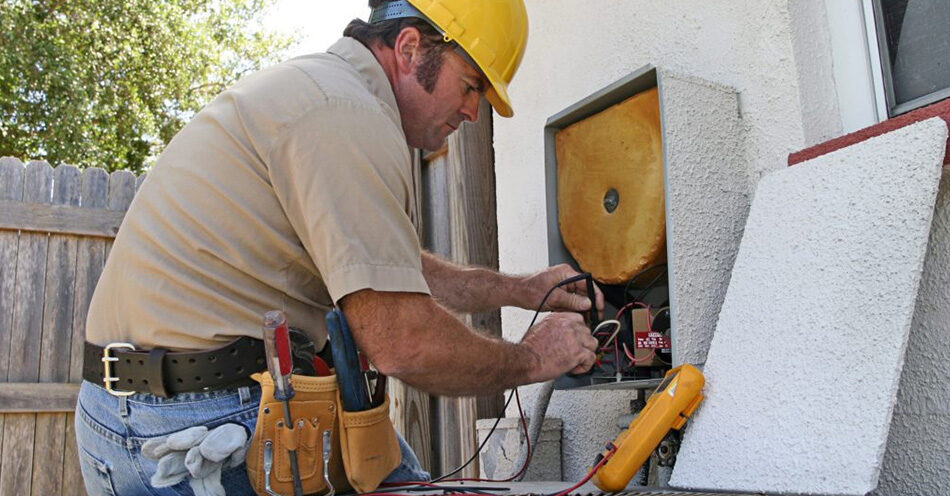 Your heating and cooling unit is essential for keeping your home comfortable all year round. However, there might be times when your AC runs into trouble and breaks down. At such times, it helps if you know what you're dealing with so you can diagnose the problem and even do some DIY troubleshooting. At the very least, understanding what's wrong with your air conditioner can result in faster repairs when you call the professionals.
As the experts in air conditioning in Melbourne, our team has put together a few tips on troubleshooting your air conditioning unit to get it back to its best.
Read on to find out what might be wrong with your air conditioner.
Fixing an Air Conditioner That Won't Turn On
There's nothing worse than an air conditioner that fails to start in the height of summer! Fortunately, there is sometimes a simple solution to an air conditioner that won't switch on. Here are a few things you can try to reverse this apparent equipment failure.
Press the on/off button on the remote a few times to make sure it's not working
If your system has an on/off button or control panel on the indoor unit, you can also try this
If your AC only has controls on the remote, check the remote batteries
If your AC unit has any external power cords, make sure they are plugged in and turned on
Check to see if there has been a full/partial power outage to your property or a blown fuse
Check the timer settings to make sure your system isn't automatically set to be switched off
You can also try switching the power to your property off and on again
If all of the relevant points above fail, call a professional to examine your system.
Troubleshooting an AC That Is Blowing Out Air That Is Too Cold/Too Hot
Is your air conditioning blowing out hot air when it's meant to be cold? Maybe it's blowing out cold air when it's meant to be hot.
In some cases, air con units may blow out hot, cold, or room temperature air when they're first turned on before quickly switching to the right temperature. It's best to give the system a moment before assuming that something is wrong.
If your system is still at the wrong temperature, make sure the thermostat is set properly. Sometimes, a problem is solved in the simplest way, and fixing your AC may require little more than making sure the temperature setting is to your liking. It's easy to forget to switch between your heating mode and cooling mode when the seasons change. And even if your system is in the right mode, the thermostat temperature setting may just be too low or too high.
Check the temperature settings and play around with the cooling and heating modes to see if this helps. If you're still having problems with your heating and cooling in Box Hill or the surrounding areas, call Australian Climate Systems for a service.
Troubleshooting Air Conditioner Remote Control Problems
Problems with air conditioner controllers are some of the most common issues for AC owners. Fortunately, it's often easy to solve these problems yourself.
Here are some troubleshooting tips to fix your AC remote:
If your remote is not working, you can try resetting it: The exact method for resetting your remote will depend on your model. Common methods include holding down the power button for a few seconds or using a pin to access and press a small reset button. Refer to your owner's manual or search online to find out how to reset your air conditioner remote.
Changing the batteries solves many air conditioner remote issues: If your AC remote isn't working or it only works sometimes, low batteries may be the problem. Slide off the back of your remote and change the batteries to fix the issue. A faded remote controller display or a display that doesn't show up at all may also be fixed by changing the batteries.
What to do when you've lost your air conditioner remote: Certain air conditioning systems can be powered on by pressing a button on the indoor unit. This will usually activate your air conditioner's automatic mode. You can also use your wall-mounted controller if you have one. If you have a Wi-Fi-controlled air conditioner, you can pair your phone with the system to access full controls. This will require you to download the relevant app. If you cannot find the AC remote, you will need to purchase a new one from the manufacturer or an approved retailer.
How to Fix an Air Conditioner Unit with No Airflow or Weak Airflow?
There are several reasons why your air conditioning may not be blowing out any air. Some of these are easy to solve yourself while others will require professional assistance.
Here are a few troubleshooting tips:
Replace air filters: Air won't flow or circulate properly if your air filters are too dirty. Modern air conditioners are more particular about dirty air filters, meaning they may require more regular care. Make sure to clean your dirty filters regularly and change them when necessary. If you can't remember the last time you changed the filters, that's probably a sign to give them some attention.
Check for obstructions: If you have a central air conditioning system, you need to make sure the air outlets are open and aren't being blocked by furniture or other items. Obstructing even one outlet can affect the way air is distributed throughout your home.
Check your zoning settings: If your ducted air conditioning has zoning settings, check your zones to make sure the lack of airflow isn't due to a particular zone being switched off.
Check the sensors: Many modern split system air conditioners have sensors that detect when people are in the room. You can't fix a sensor problem yourself, but you may be able to identify if a sensor is to blame. Try moving closer to your unit and moving in different directions to see if this affects the airflow. If it does, a sensor may be responsible for your issue.
Close the windows and doors: Refrigerated air conditioners require you to have windows and doors closed during operation so they can effectively cool (or heat) your home. If doors and windows are left open, this can cause a range of issues, including weak airflow.
Are you still having problems with your air conditioning in Lilydale or the surrounding areas? Do you have a split system in Melbourne that has potential problems with its sensor?
If you can't solve your airflow issues on your own, the experts at Australian Climate Systems are here to help.
5 Reasons to Avoid DIY Air Conditioner Repairs
Troubleshooting the problems with your air conditioner is one thing, but attempting DIY repairs is a bad idea. Here are 5 reasons to leave heating and cooling repairs to the professionals:
1. DIY repairs will void your manufacturer's warranty
2. It is illegal for unqualified individuals to perform repairs on air conditioning systems
3. Working on your AC puts your health and safety at risk! Working with these systems may expose you to health hazards such as potentially toxic fumes, refrigerant leaks, pressurised gases, live electrical connections, and other health hazards
4. Unqualified repairs may provide a "Band-Aid solution" that ultimately compromises the efficiency of your system, leading to higher running costs, bigger energy bills, and a shorter shelf life for your air conditioner
5. Attempting to repair the system yourself could lead to more serious breakdowns and even more expensive repairs in the future.
When You Should Call the Professionals
As we just mentioned, fixing the more complicated components of your air conditioner is not something you should do on your own.
If you have one of the following problems with your air conditioning in Mooroolbark or across Melbourne, you should call a team of professionals:
Your indoor unit is leaking: A major leak could be a sign of a refrigerant issue, a water leak, or another serious problem. Turn off your air conditioner and call a professional heating and cooling technician to check for low refrigerant levels and related issues.
Your system is suddenly making abnormal sounds: If your air conditioner makes any noise that is sudden, abnormal, and persistent, it will require an expert inspection to identify the problem. Strange noises can be a sign of a serious problem such as issues with the fan motor, or they may be minor in nature.
Your air conditioner is emitting foul smells: Just like with noises, you should call an expert if your air conditioner is suddenly emitting foul odours and the problem is persistent. Unpleasant smells such as burning smells/electricity smells or any odour accompanied by a discharge are particularly worrying and should be looked at ASAP.
Your electricity keeps tripping the circuit breaker: If your power keeps going out when you try to turn on the system, this is an electrical issue. An AC that keeps tripping a safety switch needs to be looked at by an air conditioning technician, and possibly a qualified electrician.
Your zone controls are malfunctioning: If your zoning controls don't seem to be working, call a professional for advice.
Your air conditioner won't turn off: An AC that won't switch off is an uncommon problem. If it's not just a case of controller batteries that need replacing, then the issue could be something serious like an electrical short, a thermostat error, or a problem with your refrigerant levels.
Your system is displaying an error code: AC error codes are usually a combination of letters or numbers that represent a corresponding fault with your air conditioning system. The best thing you can do is report this error code to your repair technician so they know exactly what they're dealing with.
When Your Air Conditioner Symptoms Might Not Be a Problem
In some cases, what might seem like a problem with your air conditioner can turn out to be a normal part of the operation that you haven't noticed before.
For example:
Steam or water around the outdoor unit: A little bit of water or steam can sometimes just be the result of condensation. If you notice excess water around your outdoor unit or the moisture build-up seems to cause other problems, that's when you should be worried.
My air conditioner automatically switches itself off: The ultimate goal of your air conditioner is to reach and maintain your target temperature. When your target temperature is reached, your system may appear to power down or switch its settings. This is perfectly normal. If your system is switching itself on and off too frequently and it doesn't seem to be maintaining the target temperature, this could be short cycling. When short cycling persists, call a qualified technician for services and repairs.
Certain noises and smells are normal for air conditioners: Momentary clicking, rattling, buzzing, rumbling, or hissing may just be the fans, louvres, drain hoses, and other parts of the system at work. Sometimes, extreme temperatures or humidity can also trigger temporary noises. Similarly, smells that dissipate shortly after your system turns on may be nothing to worry about, and they might even be your system cleaning itself. If smells become more frequent or noises become louder, or new odours and abnormal sounds emerge, this might be a sign that you need repairs or maintenance. It is recommended to book preventative air conditioning services and maintenance every 2-3 years to keep your system at its best and avoid abnormal sounds and smells.
We've Got You Covered Here at Australian Climate Systems!
Looking for more dependable air conditioning?
When it comes to heating and cooling in Boronia and all surrounding Melbourne suburbs, you can rely on Australian Climate Systems.
We're a locally owned and operated business that offers a wide range of products and services to suit your cooling and heating needs. From reverse cycle heating and cooling to split system air conditioners; from AC installations to air conditioning repair, we do it all.

Contact us today at 03 9726 4444 or click here to learn more about our special offers.