Is LG a Good Brand for Heating and Cooling?
September 07th, 2022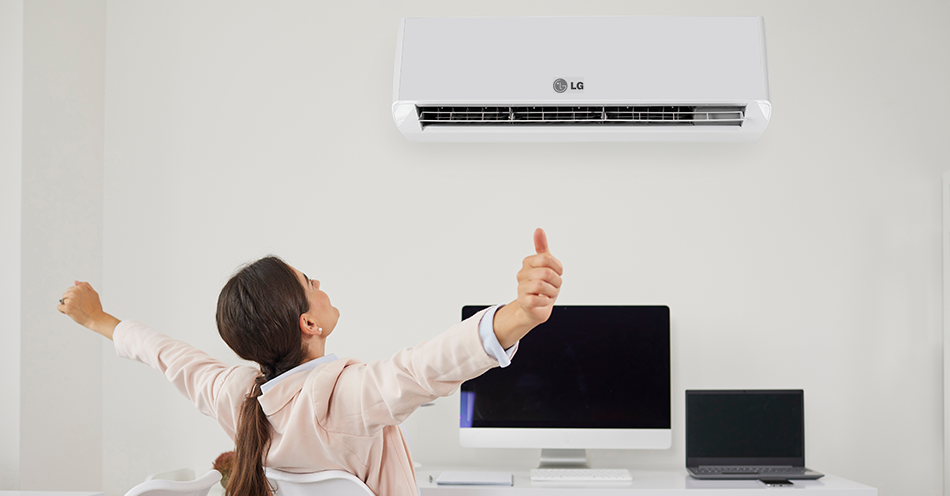 We wouldn't hesitate to buy an LG washing machine or microwave, but did you know that LG also has a highly successful HVAC division?
Packed with the same technology and quality manufacturing as other LG products, LG's heating and cooling range offers something for everyone to enjoy.
If you're considering LG for your heating and cooling needs, read on to learn more about LG's HVAC offerings and why they are a great choice.
What Heating and Cooling Products Does LG Offer?
LG doesn't offer the widest variety of heating and cooling systems, but what it lacks in range it makes up for in quality products.
Whether you're looking for a residential or commercial solution for one room or the entire home, LG can deliver.
Here's what you can expect from the LG range.
LG Split System Air Conditioners
Australians know and love split system air conditioners. These systems are split into an indoor unit and an outdoor unit, which are typically located on either side of a wall. With no need for ducts or vents, split systems are easy to install and affordable to run. Split systems are perfect for heating or cooling the room they are located in.
LG's split ACs range from 2.50kW systems to 9.50kW systems. They are divided into the Smart Series range and the High Efficiency range.
All of LG's split systems are also reverse cycle air conditioners, meaning they can provide excellent cooling and heating performance.
Some of the features we love about LG split systems include the LG Smart Inverter Compressor, which provides quiet, consistent, and energy-efficient performance in all weather conditions. This is backed by a 10-year warranty on compressor parts.
LG's High Efficiency split systems boast 6-star energy ratings for both heating and cooling. They also offer an auto-cleaning function that keeps the heat exchanger in great condition, and the Plasmaster Ioniser, which offers advanced filtration and purification for the air you breathe!
Overall, LG split systems are a great choice. If you're looking for split systems in Rowville, Ringwood, or the surrounds, we would confidently recommend LG's quality products as some of the leading options.
LG Multi-Head Split Systems
The main reservation that people have about split system air conditioners is their ability to heat or cool only one room. If you want flexible, whole-home heating and cooling without the need for ductwork, multi-split systems might be perfect for you.
Typically, every indoor unit requires a corresponding outdoor unit. However, you can get around this by installing a multi-head split system. This solution allows you to install multiple indoor head units that are powered by one outdoor unit.
LG's multi split systems offer many of the same features as their single splits, including the LG Smart Inverter. Check out this article to learn more about multi split systems and how they work.
LG Ducted Air Conditioning Units
The ultimate whole-home HVAC is available when you choose a ducted refrigerated air conditioning system.
LG's ducted systems include the Slim Ducted and High Static ranges. These air conditioners boast up to 20kW cooling capacity with reverse cycle technology that also heats your home in winter using the same ductwork.
The High Static range of LG ducted air conditioners can be divided into up to 8 zones and controlled via LG's premium controller. These systems offer whisper quiet operation and Wi-Fi compatibility.
The Slim Ducted range has a minimised height profile, allowing for ducted heating and cooling installations in limited spaces.
Are you looking for ducted heating and cooling in Boronia, Templestowe, or nearby suburbs? Australian Climate Systems can recommend if an LG ducted system is right for you.
Other Heating and Cooling Solutions Offered by LG
Split systems, multi-split systems, and ducted systems are the main HVAC products offered by LG. However, the brand also offers other options, such as:
Ceiling Mounted Cassettes: A type of split system where the indoor unit is mounted in the ceiling for a slimline finish.
Variable Refrigerant Flow (VRF) systems: Recommended for commercial properties, LG's VRF system is called MULTI V. This system offers large-scale ductless heating and cooling. Think multi-split systems except for entire office buildings or apartment complexes.
Air to Water Heat Pump (AWHP) systems:These systems are designed to provide heating, cooling, and hot water. LG's AWHP system is known as THERMA V.
What Features Are LG Heating and Cooling Products Known for?
Like every other HVAC provider, LG integrates a wide range of advanced features into its heating and cooling systems.
The features you get vary by product, but we've listed a few of the more common LG heating and cooling technologies below.
1. Comprehensive Controllers
LG offers advanced controllers across its full range of heating and cooling solutions, including both split systems and ducted systems.
LG's high-tech controllers can be wireless or wall-mounted. They offer features such as fully programmable timers and thermostats, fan speed control, and much more. LG's controllers are easy to use and navigate, and they often feature full touchscreen compatibility.
2. Advanced Air Filtration
Practically all heaters and coolers have air filters, but LG takes clean and filtered air to the next level.
We've already touched on the Plasmaster Ioniser in our split system section. This innovative feature is powered by plasma air purifying technology, which allows your LG system to collect and remove harmful airborne particles.
3. The Most Comfortable and Efficient Air
LG understands that fresh air is fantastic, but air blowing directly in your face can be a bother. The fans and louvres in LG systems can adjust automatically to allow for a comfortable, consistent flow of air that also maintains optimum energy efficiency.
4. Wi-Fi Compatibility
Imagine if you could switch on your heating just before you get home on a cold winter day. Maybe you'd like the peace of mind of knowing that you can control your air conditioner if you forget to switch it off before you leave the house.
With Wi-Fi compatibility and the LG ThinQ app, your phone can become your air con control. All you need is a Wi-Fi connection to control your system from anywhere. With added voice control compatibility, you could even speak to your LG system to switch it on!
5. Energy Efficiency at Your Fingertips
Many of LG's heating and cooling systems offer advanced energy efficiency controls at your fingertips. If you want to tighten up your energy usage, LG's real-time energy monitoring can show you exactly what you're using right now. The Active Energy Control feature then allows you to adjust your levels based on energy efficiency and power consumption.
If these features are important to you, ask Australian Climate Systems to recommend an LG air conditioner with Energy Display & Monitoring and Active Energy Control technology.
LG Ducted Air Conditioner and Split System Review: Are They Good Value for Money?
Overall, LG systems are well reviewed and well regarded, with several LG models being named as the CHOICE Recommended Air Conditioners in the last few years.
When it comes to costs, you need to consider both running costs and upfront costs. Both of these factors will be affected by the exact LG air conditioner you select.
Cheaper LG split systems can be installed for not much over $1000, while you should expect to pay $10,000+ for a comprehensive ducted unit. Generally speaking, LG systems are moderately priced, meaning they're not the budget option but they're not always the most expensive ACs on the market.
The size of your electricity bill will ultimately depend on your usage patterns and the energy efficiency of the system you select. LG offers highly efficient 6-star systems, as well as less efficient 3.5-star systems.
Features like zoning, remote Wi-Fi compatibility, and smart inverter technology can also save you money on your heating and cooling.
At the end of the day, LG air conditioners certainly aren't "cheap", but dirt cheap usually isn't what you want from your heating and cooling.
It's worth paying a little bit extra for features and energy-efficient technology that lowers your running costs in the long term. LG systems comfortably fit in this category and certainly represent good value for money.
LG vs Daikin Air Conditioning
Daikin is often upheld as the best of the best when it comes to heating and cooling. So, how do LG systems compare to Daikin units?
LG and Daikin systems have a lot in common. They generally fall into the same price bracket and offer similar features, including Wi-Fi control, eco-friendly operation, energy-efficient features, and other intelligent technologies.
Daikin systems are usually seen as more reliable and more visually appealing. Additionally, Daikin offers a wider range of split systems, multi-splits, and ducted systems to choose from. With a greater variety available, Daikin might be more likely to offer the solution you need.
As you can see, there's not much separating Daikin and LG systems. The deciding factors will probably be price, suitability, and pure personal preference.
As specialists in LG and Daikin units, Australian Climate Systems can offer you unbiased advice to help you find the right air conditioning for your needs.
How Australian Climate Systems Can Assist You with LG Heating and Cooling
If you need assistance with LG's range of air conditioners in Melbourne, look no further than Australian Climate Systems.
Our qualified technicians can assist you with LG air conditioning maintenance services, LG air conditioning repairs, and the supply and installation of new systems.
Contact us today or check out our LG specials for a great deal.