How to Select the Right A/C for Your House This Summer?
October 05th, 2022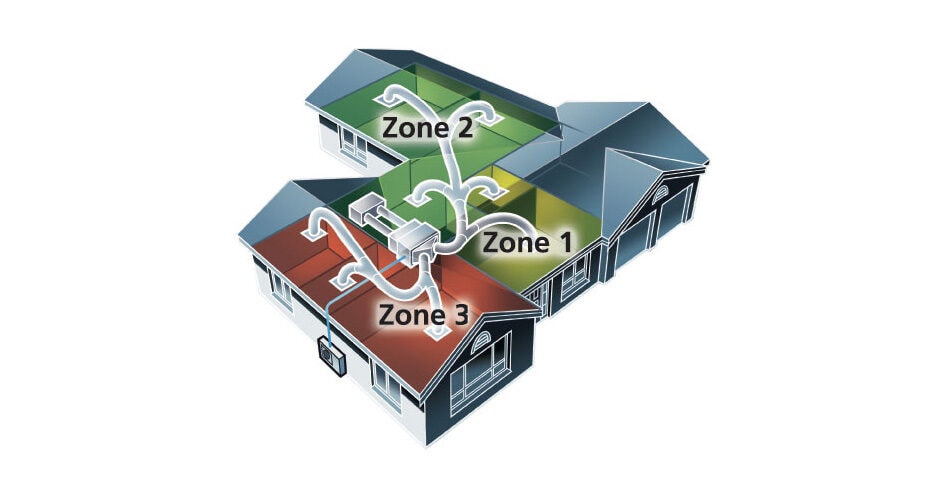 Getting through the summer months can be a slog without a proper air conditioning system. If you're reading this article, you are most likely considering buying an air conditioner or perhaps upgrading to a better model. 
With new technologies and increasing awareness of energy efficiency and eco-friendly design, the air conditioning market has never been stronger. Customers are spoilt for choice with a wide range of options available, but how do you choose the best A/C for your home?
In this article, we're going to compare the most common residential cooling options against a range of important criteria, including installation requirements, energy efficiency, and cooling price.
To get started, let's meet the contenders that can keep your house cooler this summer!
The Most Common Residential Cooling Systems You Should Consider in Melbourne
Evaporative Cooling
Evaporative cooling is a natural, affordable, and refreshing option for Melbourne homeowners. These systems work by drawing in warm air from outdoors and running it over water-soaked cooling pads. This triggers the natural process of evaporation and causes the warm air to absorb water vapours. The result is a cool, refreshing breeze that is circulated throughout the home. With these systems, you'll need to keep some doors and windows open so fresh air can constantly enter and exit the home.
Excellent in hot, dry conditions, you will enjoy eco-friendly cooling with low energy usage when you choose evaporative cooling in Melbourne.
Ducted Refrigerated Air Conditioning
Refrigerated air conditioners absorb air from inside your home, run it over a cooling coil, and push cold air back out into the room. These systems constantly recirculate the air that's already in your home, so doors and windows must stay closed for proper operation. People love refrigerated systems because they can provide colder air that's set precisely by a thermostat. If your gas heating ducts are suitable for add-on cooling, the air conditioning that you add to your home will be refrigerated.
When you choose a ducted system, you can enjoy whole-home refrigerated cooling in Melbourne.
Ducted Reverse Cycle Air Conditioning
A reverse cycle air conditioner offers heating and cooling in one system, meaning you can also use your cooler as a heater in winter! These systems utilise heat pumps, which transfer heat or cold from outdoors to indoors. Even in the depths of winter or the height of summer, there is heat or cold that can be extracted from the outdoor air.
Reverse cycle systems offer the power and precision of refrigerated coolers with the added benefits of heating, and they are less energy intensive than traditional refrigerated options. When you choose ducted reverse cycle air conditioning in Melbourne, you can enjoy whole home heating and cooling all year around.
Split System Air Conditioning
The main appeal of split systems is that they forgo complicated ductwork. All you need is a bit of wiring and piping to connect an indoor unit to an outdoor unit. The drawback is that these systems are only designed to heat or cool the room they are located in.
Split systems cool the home using the refrigerated cooling method, and if you have a reverse cycle split system, you can enjoy heating and cooling from the same unit. If you're looking for a combination of affordability and ease of installation, you can't go past split systems in Melbourne.
Key Considerations When Choosing the Right A/C for Your Home
1. Installation
Before you choose an air conditioning product, it's important to understand both your needs and the installation method.
Evaporative systems are a form of ducted cooling, meaning you will need to install ductwork above the ceiling and place an evaporative cooling unit on the roof. Ducted installations are more expensive, disruptive, and time-consuming, and they are often best if you are already renovating or building a new home. However, when it comes to ducted systems, evaporative cooling is usually the most affordable.
Refrigerated and reverse cycle systems can be ducted, or you can opt for split systems. If you choose a split system and you want air conditioning in multiple rooms of the home, consider multi-head split system installations. These systems run multiple indoor units that are connected to just one outdoor unit.
As experts in system selection and installation, Australian Climate Systems can help you choose the right air conditioning in Lilydale and the surrounds based on your requirements.
2. Space Air Conditioners or Central Air Conditioners
As well as considering the ease of installation, you need to think about how you are going to use your new A/C. Central air conditioners can cool down the whole home at once, while space air conditioners are designed for a single room.
If you're just going to use the cooler in the living room or the bedroom, a space cooling system might be right for you, as a central system would be a waste of electricity and money! You can use portable air conditioners, window units, or ceiling fans, but we would definitely recommend split systems. Portable systems are energy hungry, window units are outdated, and ceiling fans can make the room feel a few degrees cooler due to air movement, but they don't actually lower the temperature.
Central cooling systems are recommended when you want to cool down the whole home at once. These systems include ducted refrigerated systems, ducted reverse cycle systems, and evaporative systems. In some homes, space cooling will be the only option as the property may not be suitable for ductwork.
If you want some flexibility around which rooms you can cool, consider a central cooling option with zoning technology. This allows you to divide your home into zones that can be cooled individually, meaning you don't have to cool unoccupied rooms just because you have a ducted system. Refrigerated and reverse cycle systems tend to have zoning options while evaporative systems do not.
Another option is to install individual split systems in multiple rooms, or a multi-head split system. This option allows you to control each room's climate separately.
3. Size Matters
No matter which system you select for your home, it's important to choose the right size. This applies to ducted and split system models!
Oversized air conditioners will consume more electricity than required, which sends up your energy bills. Undersized systems will work overtime to keep up with your needs, which will also send up your energy usage and energy bills while compromising performance and accelerating wear and tear.
Evaporative coolers, refrigerated air conditioners, reverse cycle systems, and split systems can all be oversized or undersized if you make the wrong choice. To ensure you select the right sized air conditioning in Mooroolbark and throughout Melbourne, partner with a trusted, experienced heating and cooling technician.
4. The Product Price
Price is one of the most important factors when selecting an air conditioner, but it's not always as simple as the cheapest or most expensive being the best.
You should know that the cost of your air conditioner generally increases with the star rating of your system. In other words, the more expensive a system is upfront, the more energy efficient it is likely to be, resulting in lower running costs.
Also, keep in mind the size of the space you plan to cool with your appliance. The bigger the floor area, the larger and more powerful your appliance will need to be. Larger and more powerful coolers tend to be more expensive, but selecting the right size will save you money in the long term (as discussed in the point above).
Make sure you weigh up all the pricing pros and cons before buying a product. Here are a few points to consider:
When it comes to ducted systems, evaporative coolers are generally less expensive to supply and install, and they have lower running costs as they consume far less electricity. However, refrigerated systems provide more powerful and effective cooling in all conditions, whereas evaporative systems are less precise and struggle with high humidity levels.
Ducted reverse cycle systems are also very affordable in terms of running costs, but they can be more expensive to install upfront. The heat pump technology in these units allows them to transfer energy to heat or cool your home, rather than having to generate it directly. Low-income households may even be eligible for government rebates when choosing reverse cycle systems.
When it comes to space heating, split systems can be very affordable to supply, install, and run. They skip the extra costs associated with ductwork, and if you choose a reverse cycle split system with inverter technology, you can run your heater or cooler very efficiently.
5. Energy Efficiency
Every time we switch on an appliance at home, the one concern at the back of our mind is about its energy consumption, which affects both running costs and how environmentally friendly the system is.
Every type of air conditioner can be more or less energy efficient depending on the model you select. Luckily, things have become easier for buyers as we can now look at the star rating and decide how serious we are about our energy savings. The more stars a system has, the higher its energy efficiency rating is.
Generally speaking, some of the more energy-efficient systems are evaporative coolers and reverse cycle systems (both ducted and split systems).
To get the most energy-efficient air conditioning in Burwood or near you, chat to Australian Climate Systems. We can find the perfect balance between performance, energy costs, and eco-friendly credentials based on your priorities.
6. Cooling Speed
An air conditioner should have at least two cooling speeds and two fan speeds. This comes in handy when using your system at different times of the day. Having an energy saver mode is also effective as it provides optimum cooling with limited energy spent.
Generally speaking, traditional air conditioning systems like split systems, refrigerated systems, and reverse cycle systems will offer more functionality, options, and controls than an evaporative unit. This is because evaporative systems rely heavily on the natural process of evaporation to cool your home, which is affected by outdoor conditions that are out of your control.
However, even an evaporative unit will have various fan speeds, allowing you to bring more air into the home and create a stronger airflow.
7. Cooling-Only or Heating and Cooling?
If you want an all-in-one system that offers both heating and cooling, then evaporative coolers are out of the race. These systems offer natural cooling and nothing else.
Standard refrigerated air conditioners are also cooling-only. In some cases, you can add refrigerated air conditioning to the same ducts as your gas heating. Ask our team if this is an option for you.
As we've already said, reverse cycle air conditioners offer refrigerated cooling and heating in one system, and you can get these units as ducted systems or split systems. For combined heating and cooling, reverse cycle air conditioning is the way to go!
8. After-Sales Services
This is an important factor to consider when buying your A/C. You may want to go with an installer or a brand that offers ongoing services to keep your system at its best. No matter which cooler you install, it's important to have regular maintenance services every 2-3 years and access to fast repairs that won't void your warranty. 
When you choose Australian Climate Systems for your air conditioning in Doncaster or the surrounds, we're with you for the long haul. We offer installations, maintenance, and repairs to meet your needs, and we work with leading brands including Brivis, Bonaire, LG, and Daikin.
Need More Help Selecting Your A/C?
We hope this article has given you some valuable insights into the different types of air conditioning and the best cooling system for your home. For further advice that is tailored specifically to your property, contact Australian Climate Systems today.
Whether you're looking for air conditioning in Templestowe or across Melbourne, our team is here to help you.